Hurricane Maria victims in Puerto Rico on your mind? Here's how to make sure your donations count.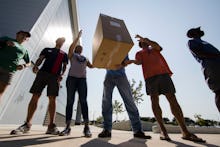 Natural disasters keep hitting the United States and other countries — from wildfires to hurricanes to earthquakes — and a lot of Americans are wondering how they can best help the people affected. Donating money to a charitable organization may seem like the easiest or most direct way to make a difference. But is that actually true?
On this episode of the Payoff podcast, we're changing gears: We focus on giving money away, instead of how to grow it (though, of course, charitable giving certainly comes with tax perks).
First up on the show, our hosts Antonia and Chris debate the value of charity to society, from individual donations to international foreign aid — including a discussion of the book Dead Aid by economist Dambisa Moyo.
Then, in the second half of the show, we talk with an expert in navigating the world of charitable giving: Michael Thatcher, CEO of Charity Navigator, which bills itself as America's leading charity rating service.
Read more about how to vet charitable organizations here and here. Plus, these are two good guides to helping Hurricane Maria victims specifically.
Sept. 26, 2017, 12:30 p.m.: This story has been updated.
You can subscribe to the Payoff podcast on Apple Podcasts, Google Play, Spotify, Stitcher, iHeart Radio, TuneIn, RadioPublic or wherever you listen to podcasts. Please rate and review — and stay tuned for new episodes every other Wednesday!