Trump's North Korea threat isn't new — threatening innocent civilians is his doctrine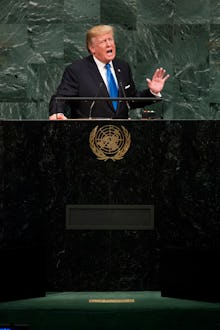 President Donald Trump shocked the United States and the rest of the international community Tuesday when he told the United Nations that the U.S. could be provoked to "totally destroy North Korea."
"The United States has great strength and patience, but if it is forced to defend itself or its allies, we will have no choice but to totally destroy North Korea," Trump told the U.N. General Assembly in his first speech before the body.
The idea that the United States would consider annihilating a country and cause mass civilian casualties in the process came as a surprise to many observers.
But it shouldn't have, because Trump has made clear since the 2016 presidential campaign that he does not believe in the idea of an "innocent civilian."
"[The] thing with the terrorists is you have to take out their families," Trump told the collected hosts of Fox and Friends during an interview while campaigning for the Republican presidential nomination in December 2015.
"When you get these terrorists, you have to take out their families. They care about their lives, don't kid yourself. When they say they don't care about their lives, you have to take out their families."
Trump's guilt-by-association comment was quickly overshadowed when, later that month, he announced another policy targeting innocent civilians — his Muslim ban.
But Trump's policy on civilian deaths overseas remained a staple of his foreign policy well after taking office.
In sworn testimony during his confirmation hearing, Secretary of Defense James Mattis emphasized to Congress that "there has been no change to our rules of engagement and there has been no change to our continued extraordinary efforts to avoid innocent civilian casualties."
Yet fewer than 10 days into his administration, Trump foreshadowed his position on civilians by authorizing, over dinner, what would turn out to be a catastrophic military raid in southern Yemen. Though much of the media attention focused on the death of a U.S. Navy SEAL, the raid resulted in the deaths of several civilians including an 8-year-old American girl.
And evidence gathered by international monitors throughout the year continues to paint a picture of a Trump administration that appears unconcerned by increasing civilian casualties.
An independent analysis from the group Airwars found the Trump administration was responsible for the deaths of more civilians in the first seven months of his administration than all of the civilians killed in the last three years of the Obama administration — an administration which itself came under fire for failing to adequately consider civilian casualties.
According to Amnesty International, U.S. forces in June used white phosphorus munitions in two civilian neighborhoods in Raqqa, Syria. The use of white phosophorus in civilian-populated areas is considered a war crime, and Amnesty International has called for an investigation of the incident.