These three Republican senators killed the "skinny repeal." How will they vote on Graham-Cassidy?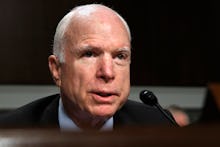 In late July, Republican Sens. John McCain of Arizona, Susan Collins of Maine and Lisa Murkowski of Alaska rebelled against their party to join Democrats in destroying the so-called "skinny repeal" of the Affordable Care Act. Their votes sealed the bill's fate, killing Senate Republicans' fourth effort to eviscerate the ACA after promising their base for years they would do exactly that.
But with another Republican health care bill gaining new traction in the Senate, all eyes are once again on McCain, Murkowski and Collins as Senate Majority Leader Mitch McConnell attempts to gauge his party's support for the proposal — which at its core seeks to eviscerate the federal government's role in health care by providing states with block grants they can spend as they please.
Will the senators who successfully put an end to the skinny repeal also be responsible for the failure of Graham-Cassidy, the latest health care plan authored by Republican Sens. Lindsey Graham of South Carolina and Bill Cassidy of Louisiana?
Here's everything we know so far.
McCain got the green light to support Graham-Cassidy, but that doesn't mean he will
On Monday morning, McCain told reporters he would "reluctantly" support Graham-Cassidy if his state's governor, Doug Ducey, also backed the bill.
Hours later, Ducey tweeted his emphatic support for the proposal, urging Republicans in Congress to move quickly to pass the bill ahead of its Sept. 30 deadline.
Though Ducey's endorsement gave McCain the green light to support Graham-Cassidy, there's no guarantee he will. Despite reportedly having Ducey's go-ahead to vote in favor of the skinny repeal, McCain still cast a dramatic vote against its passage.
For the moment, Collins says she's "leaning no"
Citing a plethora of unknown variables associated with the measure, Collins clarified her stance on Graham-Cassidy on Tuesday, telling an ABC News reporter she was "leaning no" on her party's latest attempt at repealing the ACA.
Collins may have reason to be skeptical of whether the proposal is what's best for her state. According to an analysis by the Center on Budget and Policy Priorities — a liberal-leaning think tank — Maine stands to lose millions in federal funding under Graham-Cassidy.
Murkowski is still "crunching the numbers"
When asked about Murkowski's stance on Graham-Cassidy, Karina Peterson, her communications director, said in an email Tuesday that the Alaska senator was still "crunching the numbers" to determine how the proposal would impact her state.
"Murkowski hasn't made a determination on the bill yet," Peterson clarified. "She is still reviewing the legislation, including crunching numbers to determine [Graham-Cassidy's] impacts to Alaska."
As with Collins, the CBPP noted that Alaska could lose millions under Graham-Cassidy. If its assessment is accurate, it may prove to be an insurmountable barrier between the senator and her potential support for the bill.