Ousted Fox News host Bill O'Reilly says HR never asked about harassment allegations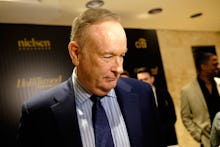 Former Fox News host Bill O'Reilly pushed back on the sexual harassment allegations levied against him and asserted in an interview Tuesday that he never had "one interaction" with the human resources department at Fox or at other media companies he's worked for.
In a tense interview with Today show host Matt Lauer, O'Reilly, who was fired in April following reports that the network had secretly settled several sexual harassment lawsuits filed against him over the years, said the five suits and subsequent settlements were a "political and financial hit job." O'Reilly also threatened to smear his accusers, and said he had assembled a legal team to "get the truth to the American people."
The New York Times reported on April 1 that five women were quietly paid a total of around $13 million on the condition they would not sue O'Reilly in court and that they would not talk about the allegations. The women alleged a variety of inappropriate behavior, including "verbal abuse, lewd comments, unwanted advances and phone calls in which it sounded as if Mr. O'Reilly was masturbating," according to the Times.
O'Reilly has denied all of those claims, but once the settlements were made public, a raft of advertiser boycotts led to his ouster two weeks later.
In the interview with Lauer, O'Reilly denied sending lewd text messages or emails, and he pushed back on Lauer's questioning about the allegations. When Lauer asked whether O'Reilly had any human resources cases brought against him, O'Reilly said he didn't have a case brought against him "in 42 years."
"In the 42 years I've been in this business," O'Reilly said, "I've worked for 12 companies. Not one time did I have any interaction with HR, [or] any complaints filed against me."
A Fox News spokesperson did not respond to requests for comment about the accuracy of O'Reilly's statement.
O'Reilly also said the advertiser boycott was orchestrated by a "radical left group," referencing the progressive media watchdog group Media Matters, which encouraged the Fox boycott by providing information about the companies that advertised on O'Reilly's former program, The O'Reilly Factor.
O'Reilly also tried to cast doubt on the believability of one of his accusers, pointing to disparaging news stories about her on his website and on the right-wing news site Newsmax about an arrest in 2015.
"It goes to credibility, doesn't it?" he said.
O'Reilly told Lauer his "conscience was clear."
"Nobody's a perfect person, but I can go to sleep tonight very well knowing that I never mistreated anyone on my watch in 42 years," he said.
The Today interview was relatively hard-hitting and at times combative, particularly as Lauer repeatedly pressed O'Reilly about the harassment allegations. The interview set Lauer apart from other outlets that skipped hard-hitting questions about the allegations.
O'Reilly's appearance on Today is part of a publicity tour coinciding with the release of his newest book. On an appearance on Fox News host Sean Hannity's radio program Monday, O'Reilly, who launched his own website and podcast following his ousting from Fox, said he didn't know whether he would return to the network.
"I have to get this legal stuff done," he told Hannity.