What Melania Trump wore her 35th week as first lady — at the U.N. in that giant pink coat and more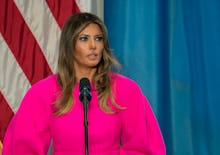 This was yet another high-profile week for Melania Trump.
Attending events at the United Nations in New York City with her husband, she made speeches rallying against bullying (rather ironically) and sat perfectly still as her husband threatened North Korea and said that the U.S. may have "no choice but to totally destroy" the country, which is home to 25 million people.
Her clothes this week oscillated from signaling that she wanted no attention on her at all, to signaling that she wanted all the attention in the room.
This is what Trump wore this week:
Tuesday, Sept. 19: A Calvin Klein suit for the United Nations
For an event that just might go down in history as one of the most mortifying addresses by an American president at the United Nations, Trump wore a grey plaid pantsuit from Calvin Klein, with a black button-down underneath.
Never one to really embrace menswear, this was Trump's Annie Hall moment.
Wednesday, Sept. 20: A giant fuchsia coat for addressing the U.N.
Well this was a risk.
To address the other spouses of world leaders at the United Nations on Wednesday, Trump went for something completely out of her wheelhouse: a bright fuchsia, oversize coat from the Spanish label Delpozo, a favorite brand of hers at this point.
A high-fashion look like this one at an event supposedly about bringing nations together felt a little, well, off to say the least.
She paired the coat with stilettos that matched the bright pink color exactly.
Friday, Sept. 22: A plaid shirt for gardening at the White House
And here we have Trump cosplaying the Brawny Man.
All joking aside, of course even something as simple and common as a plaid button-down turns out to be designer in Trump's world. The shirt, in truth, is Balmain and goes for a whopping $1,380.
She then paired that with slim black pants, low Converse sneakers (thankfully not heels) and red rubber gloves.
You can see previous recaps of what Melania Trump wore here.