What would it mean if Trump was caught on tape while Manafort was being wiretapped? It depends.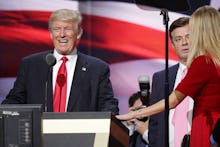 Lordy, was President Donald Trump caught on tape talking to Paul Manafort about Russia?
That's one of the questions raised by Monday's bombshell CNN report, which revealed that United States investigators wiretapped the embattled ex-Trump campaign chairman before and after the 2016 election — a time when he was known to have had contacts with his former boss.
Manafort, who was also reportedly warned that he would be indicted by special counsel Robert Mueller, had apparently had communications that "sparked concerns among investigators that Manafort had encouraged the Russians to help with the campaign," sources told CNN.
Here's what the new reports mean for Manafort — and what they could mean for the investigation into Trump.
Manafort could spell trouble for the president.
The latest news about Manafort provides the strongest indication yet of what's been a matter of heavy speculation for months: that the Trump ally may be facing potentially serious legal trouble.
The first suggestion that Manafort was in legal jeopardy came in August, when it was revealed that his Virginia home had been subjected to an early morning FBI raid in late July.
That Mueller's team was able to obtain a search warrant indicated that they'd been able to show probable cause that a crime had been committed, according to former FBI special agent Asha Rangappa.
What's more, that the government was able to wiretap Manafort under the Foreign Intelligence Surveillance Act likely shows that there may have been probable cause that he'd engaged in "criminal conduct," according to a Lawfare analysis.
Of course, an indictment like the one Mueller warned Manafort of could have huge implications on the Russia investigation. As former federal prosecutor Patrick Cotter explained to Mic on Sept. 13, it is standard procedure for investigators to leverage such charges to find out what else a target knows. In other words, Mueller's team could offer Manafort a deal if he provides useful information on any possible collusion between the campaign and Russia.
And what are the consequences if Trump was recorded on the wiretap?
It's not yet clear.
Tapes of Trump talking Russia could certainly provide greater insight into any potential wrongdoing on the part of the president. Any incidental collection could also be used by Mueller as part of his investigation.
But, as Lawfare points out, it's unclear what information was collected on Manafort — and CNN's report leaves a lot of questions unanswered.
Still, the analysts wrote, the one-two punch of reports should raise concerns for Trump and his team.
"It's clear that L'Affaire Russe isn't going away anytime soon," according to Lawfare. "It's clear that Mueller knows a great deal that the rest of us do not. And it's clear that the White House's public dismissiveness aside, there is real reason for the president and his coterie to worry about the many shoes left to drop."
"Beyond that, things remain very murky."