6 questions with Janet Jackson's trusted stylist Robért Behar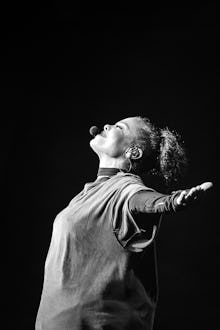 Five letters is all it takes for the reference to land. She is, after all, Janet. There can be no other (sorry Janet Leigh — loved you in Psycho).
The youngest of the Katherine and Joseph Jackson's 10 children, Janet first began performing at the age of seven, made her television debut at 10 and released her debut album at 16. Thirty-five years later, she now stands as one of the best-selling artists in music history — always eclipsing, besting, record-setting, often herself.
"It's tempting to assign Janet a label," John Hill, host of Sirius XM's The Feels, said in an interview. "Legend, sure. And 'survivor' is thrown around a lot. A Phoenix rising from the ashes of show business. But when you stop and think of all the lives she's lived you realize, there are no ashes. She's no Phoenix. She's beyond any human metaphor."
In support of her 2015 album, Unbreakable (her seventh number one), Jackson is finally back on the road with her State of the World Tour, one that originally launched in 2015 as the Unbreakable World Tour but had to be postponed due to her pregnancy.
Jackson's stylist of over a decade Robért Behar is responsible for outfitting her for the tour — a job that requires a keen sense of Jackson's signature style (which has ranged from snapbacks and hoop earrings in 1989's "Rhythm Nation" to skin-tight latex body suit's in 1999's "What's It Gonna Be?" to headline-making ponchos in 2016) as well as an understanding of the physical demands of a stadium tour.
Below, six questions with Behar.
When did you first meet Janet?
We first met in 2005 at the GLAAD awards and then at the Kids' Choice Awards the same week in Los Angeles.
How many total looks are on this tour — and how many of them are custom?
On this tour, she has around four to five costume changes, and they are all custom down to her shoes, which need to be perfect for all of the dancing she does. One of the really cool looks is in her slow section; we decided to go in a direction that was more dressed down and started a collaboration with Fear of God, who did all of the clothes for the dancers as well as Janet in that part. It is also where we revive the famous key earring. [Accessories designer] Rinaldy Yunardi made the custom piece for us.
What's the most exciting part of outfitting Janet?
The creative process. She is very involved. We can sit down for hours and have fun and laugh while putting things together to create. We are creating together up until the last minute before the show, and it really is the best.
What are some of the considerations you make in terms of designing garments that allow movement/breathability?
We put a lot of research into finding elegant fabrics that also fit the bill of the tour with all of her dancing and movement. The looks need to have stretch material to allow for movement, but we still want materials that look good in any situation. She's dancing a lot and we definitely need to take that into consideration when picking garments and designing the looks.
How has Janet's tour aesthetic evolved through the years?
There's a more relaxed approach to the costumes. When we first started, we would do costumes for stages and now they have a feeling of everyday life as well. We draw a lot of inspirations from our good friend Haider Ackermann and his esthetic.
Why is Janet one of the world's preeminent superstars?
I think her fans see the real person in her and the approachable person she is, so it draws a lot of comfort to them, and at the same time, her talent and beauty is above anything out there; this combination is Janet Jackson.