Exclusive: Hillary Clinton says, "No one, including me, is saying we will contest the election"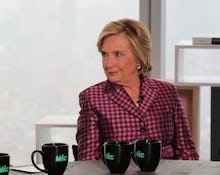 Former Secretary of State Hillary Clinton said she's not planning to contest the results of the election, clarifying a comment she made Monday on NPR in which she said wouldn't rule out questioning the legitimacy of the outcome of the 2016 presidential campaign.
"I think no one, including me, is saying we will contest the election," Clinton said Tuesday during a roundtable interview with Mic in its New York office. "I'm in the very large group of people who believe that, you know, there's no legal basis, no constitutional basis for that."
However, Clinton also said there are "serious questions being raised by the congressional investigation," as well as the inquiry headed by special counsel Robert Mueller.
"I think depending upon what is found in those investigations, it won't be just me, it will be millions of Americans who raise questions about the legitimacy of the election," Clinton said.
Her comments came a day after she was asked by NPR's Terry Gross whether she would "completely rule out questioning the legitimacy of this election if we learn that the Russian interference in the election is even deeper than we know now?"
Clinton said she "wouldn't rule it out" — leading to multiple reports that Clinton was leaving the door open to contesting the election.
Clinton wouldn't unequivocally say on Tuesday, however, that she thought those close to President Donald Trump's campaign — specifically, billionaire Robert Mercer and his data firm, Cambridge Analytica — had a hand in the Russian effort to influence the election.
"I think this is a worthy area of exploration," Clinton said of Mercer's role in Trump's victory. "I'm not going to sit here and say we know they cooperated with a foreign adversary but I think as we're finding out the way our own companies, particularly Facebook, have been taken advantage of by the Russians, we need to find out what other companies, either were doing or had done to themselves by some kind of connection and try to, you know, prevent that from happening again too."
The Mercer family has close ties to Steve Bannon, Trump's former chief strategist, who has reportedly also had a role in Cambridge Analytica. The Mercers are also partial owners of Breitbart News. Clinton also raised Cambridge Analytica's representation of Kenya's President Uhuru Kenyatta, whose August re-election was later pronounced "invalid, null and void," by Kenya's Supreme Court after it was revealed that the nation's voting system had been hacked.
"Just recently there were questions about the hacking attacks on the presidential election in Kenya, and again you find Cambridge Analytica," Clinton said. The British government is also investigating Cambridge Analytica for its role helping supporters of the Brexit referendum campaign.
Ultimately, Clinton said, it's imperative that investigators find out what Russian entities did to influence the campaign in order for the U.S. to protect itself from further Russian-led efforts to meddle in the American electoral process.
"I have no doubt, having dealt with Mr. Putin over a number of years, that they believe they succeeded in destabilizing our democracy, raising questions, sowing divisiveness among our people, and they're not going to disappear because it worked for them," Clinton said. "So they'll be back in 2018, they'll be back in 2020 and I certainly think even before we get to all the answers that I hope will be forthcoming, we all do more to defend our democracy and protect our electoral process."
Full video of Mic's interview with Hillary Clinton is forthcoming.
Sept. 19, 2017, 7:13 p.m.: This article has been updated.