Exclusive: Hillary Clinton says Melania Trump isn't doing enough to fight cyberbullying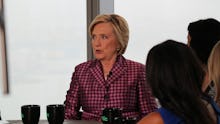 On the campaign trail, first lady Melania Trump pledged to launch an initiative to combat cyberbullying, but former first lady Hillary Clinton thinks Trump is not following through with that commitment.
When asked in an interview with Mic Tuesday if she thought Trump was doing enough with her platform, Clinton said, "No, no and, look, I don't think anybody is doing enough on cyberbullying."
Trump announced before her husband was elected in November that — should she enter the White House — her chief cause as first lady would be fighting the pervasive online bullying of children. "Our culture has gotten too mean and too rough, especially to children and teenagers," Trump said at the time.
Clinton on Tuesday agreed that online harassment is a real problem and "has a particularly damaging effect on young people — who are so influenced by and personally affected by what is said about them or said to them."
After Melania Trump's announcement, many pointed out that then-candidate Donald Trump was often complicit in the very online behavior his wife said she hoped to end, hurling insults at Clinton, journalists, women and other Republican rivals.
In June, Trump reportedly even defended the president after he went on a crude, sexist rant against Morning Joe host Mika Brzezinski on Twitter. The first lady's director of communications said at the time, "As the first lady has stated publicly in the past, when her husband gets attacked, he will punch back 10 times harder."
Several of the nation's leading anti-cyberbullying experts told Mic in July they have yet to hear from the first lady. "Why she chose to put herself in a position where she is taking on the very issue that her husband is so publicly guilty of is just bizarre," Larry Magid, CEO of ConnectSafely, told Mic.
"I think it's a really important issue, and if she were serious and able to follow through on it, I bet there would be so many people who would be willing to try and help her out on that," Clinton told Mic.
On Sunday, President Donald Trump retweeted a GIF of him knocking Clinton over with a golf ball.
Video of Mic's interview with Hillary Clinton is forthcoming.