5 ways female entrepreneurs can thrive in a man's startup world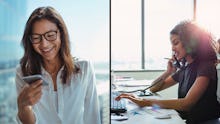 Have you heard about "Keith Mann," the fake male co-founder that Penelope Gazin and Kate Dwyer, co-founders of e-commerce site Witchsy, told Fast Company they invented? After one too many condescending emails from male developers and designers, the female entrepreneurs created a fictional frontman who could step in and correspond with difficult (read: sexist) people. The result? "Kevin" got faster and more polite responses than the female co-founders, which essentially kicked down doors that had previously been closed to the female-led business.
Whether you want to high-five Gazin and Dwyer for their genius move — or simply groan because their experience is fairly irrefutable evidence of workplace sexism — the takeaway is clear: It's hard for women to get ahead in a startup world with odds stacked against them.
A small minority of startups that actually get funding and attention are female-led, Babson College reported in 2014: As Harvard Business Review noted, the research found that fewer than 5% of all VC-funded firms have women on their executive teams — and only 2.7% actually had a female CEO. In March 2017, Fortune reported that for every one women-led company that received venture capital funding in 2016, 16 other male-led companies got cash.
In the spirit of the Witchsy story, Mic asked several female entrepreneurs how they plan to beat the odds — without a fake male co-founder.
1. Ask for more money.
Bias and systemic underrepresentation certainly may hamper women who ask for money: "Investing is tribal," said Chandra Miller Fienen, director of operations and programs at startup incubator StartingBlock Madison, Inc. "If we had more women investors... we would have more women being funded."
But female entrepreneurs also might be able to help themselves by upping their expectations of what they deserve. Women actually ask for $35,000 less on average in debt financing compared to men, according to a recent report from Fundera.
Those findings line up with other reports suggesting women sometimes hold themselves back by underestimating their worth: Female employees tend to ask for smaller raises less often than male employees do, as well, the study showed. And research suggests women hold themselves to higher standards for qualification before even applying for jobs.
"Recently, I asked a foundation for $10,000 for something I'm working on," Laura Gallagher, president and founder of the Creative Company, a public relations and marketing firm, said. "Another male friend is asking that same foundation for $500,000. Who has more vision? We don't even ask for the money."
Jessica Bell, the Wisconsin-based inventor of plastic wine glass HaloVino, said her original philosophy was "to take as little money as you need, and just get by," she said. "What I'm starting to realize is one of your biggest mistakes is not having enough money. If you don't get the money, you're dead in the water."
Bell's experience corroborates what a study by the National Women's Business Council found: Undercapitalization is a key contributing factor to women's business failure and underachievement compared to men's businesses. Of the women-owned businesses that succeed, most earn significantly less in revenue and employ fewer people than male-owned businesses, according to the Small Business Administration's latest women-owned business report.
2. Find mentors who will help you respond to sexism.
Mentoring can help with every aspect of starting a business, including guidance on how to not "let the bastards grind you down," as Offred from The Handmaid's Tale might say.
Experienced mentors can help you figure out how to respond to moments when you experience blatant sexism. Heather Wentler, co-founder of the Doyenne Group, a Wisconsin-based nonprofit working to empower female entrepreneurs, recalled a pitch competition from a few years ago, when a female founder presented an at-home fertility test. One of the judges made a sexist remark to the founder while she was on stage.
"The judge said, 'So my wife can use this, and I'll know when to avoid her, right?'" Wentler said. "The presenter was like — what do I do? Do I laugh it off? She kept a blank expression and had no reaction, and afterward went up to him and said, "'Do you realize how inappropriate it was to make that comment?'"
Wentler then met with the founder to advise her on the best way to handle situations like that in the future. "We talked to her about, 'How you address that so the judge can see that he crossed a line?'" Wentler said. "I can't believe we have to do that, but we do. Find people who can help you navigate that."
Finding a male mentor is also a good strategy, whether you want help figuring out if you're getting paid fairly or insight into how you're perceived.
"I know a woman who's very successful in video gaming," Fienen said. "She had an older white male mentor when she was younger. He was the one who told her what to wear, how to avoid problems that she could walk into. That is what a mentor should do. They will tell you what is happening behind closed doors."
3. Prepare for investors to hold you to a higher standard than male peers.
Dana Wendt, founder of Jouzge, a healthy candy bar alternative, faced questions that didn't make sense when she talked to some venture capitalists before her product hit the market.
"In the beginning, someone asked us, 'What's your churn?' Are you maintaining your burn rate" Wendt said, explaining some questions she got were not relevant to the type or stage of her business.
Asking a company whose product is not yet on the market, and therefore has no income, about their burn rate is akin to asking a jobless first-year college student how fast they're paying their student loans back.
Similar questions came up often for Anna Auerbach and Annie Dean, the co-founders and co-CEOs of feminist job board Werk, according to a recent article published on Girlboss. The two women compared notes with male founders at the same stage, and none of them got asked these types of questions.
"Men are good investments until they prove otherwise," the Werk co-founders concluded. "Women are unsound investments until they prove they are worth taking a risk on."
Had Wendt anticipated gender-based criticism in her funding meetings, she would have armed herself with additional data. For example, one small business adviser questioned whether her target market, teen girls, accounted for any significant spending. Now, Wendt knows how to reply — with a dollar figure in the hundreds of billions.
4. Help others overcome gender biases.
Unless you're actively condemning sexism and bias, raising awareness by doing thing like sharing the Witchsy story can actually make the problem worse, according to Adam Grant and Sheryl Sandberg. "If we don't reinforce that people need — and want — to overcome their biases, we end up silently condoning the status quo," the pair wrote in the New York Times.
Wentler said people need to tell colleagues that sexist behavior is unacceptable without being accusatory.
"I've been in committee meetings where I've had men shake their finger at me and tell me to stop bringing up the gender issue," Wentler said. "I decided to not talk any more in that meeting about it, but scheduled a one-on-one to talk to that person later."
Bustle compiled a list of other tactics for confronting bias in the moment, which include asking for an explanation for a biased action, clarifying whether a man would receive the same treatment, and asking someone to repeat themselves when they make sexist remarks or jokes — so they realize just how immature their sexist joke sounds.
And if someone refuses to treat women with respect, "they're not a good partner to work with," Wendt said.
5. Know key personality traits aren't male or female — they're all important to success.
Is brashness a male trait or a female trait? What about listening? Or confidence? Fienen said she knows the answer you're probably tempted to give, but she disputes the idea that these traits have anything to do with biology. They've just been branded as either male or female, but they're actually tools available to all genders.
"Sometimes it's important to pull out that pushy brashness, but to also have a tool of, 'I can hear what's going on and I can find the middle ground,'" Fienen said.
The startup world often rewards confidence and decisiveness, but the early stages of a business sometimes calls for collaboration and listening as well. Fienen said she encourages female founders to work on becoming more confident, but not to devalue other traits that may have been ingrained in them since youth, and the research backs her up.
A 2011 study by George Mason University found that when a woman exhibits masculine-branded traits like self-confidence and assertiveness, but also possesses self-awareness, she actually gets more promotions than other women and men.
The takeaway for female founders? It's worth it to stand up for your skills and qualifications.