The 2017 most-searched Halloween costumes show the truly bleak state Halloween is in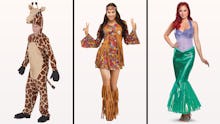 Halloween, it must be said, comes at a pretty awkward time in 2017. It seems like everyone's got something really big to worry about in the United States: health care, a nuclear war, the increasing likelihood that flared pants will make a comeback.
Halloween, which is usually when people use their creativity to think up the cleverest and most poignant costumes, already feels like an afterthought.
That's all the more obvious after seeing a report from the fashion search platform Lyst and the social platform Pinterest, which came together to analyze searches and saves across a combined pool of 180 million monthly users around the world and figure out the 10 most-wanted looks in 2017.
Not to spoil things for you already, but shit's real bleak, y'all.
This is what we're looking at in 2017:
1. Pennywise, the clown from It
2. A Stranger Things character
3. Belle from Beauty and the Beast
4. A giraffe
5. Wonder Woman
6. A Game of Thrones character
7. Baywatch babe
8. Hippie
9. Unicorn
10. Mermaid
Yeah, yikes.
To begin, the No. 1 spot on this list is Pennywise from the Stephen King novel It, pushed back into the zeitgeist with the recent film adaptation.
For the past, oh, we don't know, millennium, clowns have been the most basic of Halloween costumes. You get a giant sack covered in polka dots, throw a red wig on your head and wear big, ugly shoes if you have them.
What's the real innovation here? You're a murderous clown now? Big whoop. That happened for real in 2016. It's all a big snoozefest.
According to Pinterest, saves for clown makeup and costume ideas are up 941% year over year, to which we say: How do people still not know what a clown looks like?
The next costume on the list is a Stranger Things character. Now, we get it — it's a great show, no arguing that. But what does dressing up like a Stranger Things character mean? Do you wear your little brother's clothes, or do you just wear some utilitarian, slightly '80s-inspired getup?
Unless you're shaving your head, wearing a babydoll dress and running around with waffles, we're frankly not impressed. And as timely, referential costumes go, this is very "last year," considering the show debuted in July 2016.
The same thinking goes for people who want to dress up like characters from Game of Thrones. More than 400 people have simply searched "Daenerys" on Lyst; over on Pinterest, saves for Jon Snow are up 280% year on year. The latter is already seeing around 4,000 searches a day (that's impressive!) for black-and-grey fur stoles, which will probably be used to look like the man who knows nothing. But after what feels like an eternity of seasons, is dressing up like a GoT character still thrilling?
Other pop-culture figures predicted to be big in 2017 are Belle from Beauty and the Beast and an unnamed "babe" from Baywatch, both of which would have been more relevant 20 years ago.
And now for the saddest slew of predicted popular costumes: There's a giraffe, a hippie, a unicorn and a mermaid. Pinterest saves on giraffe makeup and costumes are up nearly 1,200% compared to this time in 2016, and there have been similar spikes in makeup and costume searches for the others, too.
Now we ask you, in all sincerity, to think of costumes that are less weak than this. We get that we're all tired. We get that maybe it's going to be hard to care about Halloween in 2017 — but if you're not a child and want to dress up like any of these, well, we're sorry. We're sorry you're clearly being forced to dress up for Halloween against your will.
The one completely acceptable costume on this list is Wonder Woman, because Wonder Woman is great, that movie is great and, honestly, women dressing up as powerful and smart women is very cool indeed.
As for the other costumes, jeez.