Old iPhones support Apple's new augmented reality features too. These are the devices ready for AR.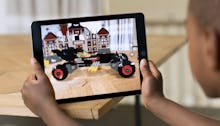 Apple took the stage early September not only to announce its $1,000 iPhone, but also to show off the wonders of augmented reality: letting apps overlay digital elements onto the world in front of you. Apple may want you to spend another $700 or more to use augmented reality on one of the latest greatest iPhones, but augmented reality functions are coming to older iOS devices too.
Making use of the camera already on the back of iPhones and iPads, augmented reality features will work on an array of devices. Apple says AR will work on devices running its A9 chip, which include:
iPad (2017 model)
Along with the upcoming iPhone 8, iPhone 8 Plus and iPhone X, these devices will all support Apple's augmented reality tools ARKit. With iOS 11 being a free update for Apple users, augmented reality features will come to those touting the proper hardware at no extra cost.
If you have one of these devices, you can use apps like MLB's At Bat to see real-time stats of players on the field.
Apps like that above may not seem that exciting, but there are others on the way. You can measure items in front of you thanks to Smart Picture 3D, giving you plenty of reason to throw out your ruler, or play with a virtual dog in RoVR, giving you plenty of reason to throw out your pup.
OK, not really.