Graham-Cassidy would let states control insurance. That's what first led to a need for Obamacare.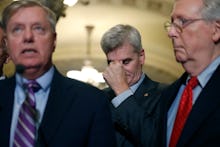 Welcome to Mic's daily read on Donald Trump's America. Want to receive this as a daily email in your inbox? Subscribe here.
Every day, we bring you a different dispatch on Trump's America. Today's focus: Going back.
Wednesday's Dispatch: Republicans want states to pick their own health care plans. Here's why we stopped that in the first place.
"Money direct to states!" That is how the president sold the Graham-Cassidy health care plan Wednesday morning on Twitter.
Let's rewind to 2009, when states did have more control over health insurance. When the debate over the Affordable Care Act began, the U.S. was in the midst of a health care crisis.
Each state could decide what insurance companies had to cover. That left millions of Americans without coverage on things like pre-existing conditions and maternity care. Older and sicker people were charged more money for their coverage.
Women were charged more than men. Millions more people were uninsured. And states did not have the cash to help poorer or sicker citizens purchase insurance.
Health reform experts are quick to point out that Obamacare has its problems. But the Graham-Cassidy legislation would return the U.S. to a Wild West system of insurance companies offering wildly different coverage in every state and a shrinking pot of federal money to help states provide insurance to sick people.
"It almost becomes worse than where we were before," Judy Solomon, vice president of health policy at the Center on Budget Policy and Priorities, said of Graham-Cassidy.
There are several problems. Should it become law, Graham-Cassidy would:
• Reduce and eventually end sending money to states that subsidize insurance for patients with expensive health care needs.
• End the mandate that requires most Americans to have health insurance.
• Let each state decide whether pre-existing conditions, essential health benefits and more should be required to be covered by insurers.
By lowering subsidies and ending the mandate, no insurer will take on sick or older patients, Sabrina Corlette, research professor at Georgetown University, said.
"There are millions and millions of people depending on that [insurance] coverage who could literally die without it," Corlette said.
Earlier Republican health care proposals would have led to at least 20 million people losing health insurance. Graham-Cassidy would not only do that, experts say, it would also force each state to decide what to do next. And it would take away federal dollars from states that expanded Medicaid under the ACA, and redistribute them to states that currently take less federal support in health care.
That might sound good on paper, but really it makes things "far more complicated," said Tim Jost, an emeritus professor at Washington and Lee University and a leading analyst on health care reform.
"It means you would have to do, in every state, what Congress has been trying to fight out for the last eight years," Jost said. "In 2020, you'd face the possibility that there are a fair number of states with no program in place."
These characteristics have quickly earned the Graham-Cassidy proposal — which remains short of the required 50 votes in the Senate — a label of being the worst GOP proposal so far. Again, an array of national health care groups are opposed to the bill. A bipartisan group of governors panned the bill.
"States had 140-150 years to straighten out the individual health insurance market," Jost said. "The ACA imposed the reforms that states had considered but had a hard time imposing. Graham-Cassidy would take us backwards on all that."
Today's question: Do states have a track record to suggest they can each independently craft health insurance systems that will maintain existing insurance and cover sick people? Email us at trumpsamerica@mic.com.
Wednesday in Trump's America
In an exclusive, Hillary Clinton spoke with Mic at our New York offices on Tuesday. She clarified that she will not be contesting the election results. She also said Melania Trump isn't doing enough about cyberbullying.
Here are the top takeaways from the president's fiery address to the United Nations. The president hinted the U.S. may pull out of the Iran Nuclear Deal. And he said the U.S. "may have no choice but to totally destroy North Korea."
Three Democratic lawmakers were arrested outside of Trump Tower while protesting to call for a clean vote on the Dream Act.
Where are Sens. Lisa Murkowski (R-Alaska), Susan Collins (R-Maine) and John McCain (R-Ariz.) on the Graham-Cassidy bill? It's still not clear. Voting on the bill is likely to begin next week, ahead of the Sept. 30 deadline for passage with 50 votes.
Jimmy Kimmel ripped into Cassidy for saying, months ago, that he would only support health care legislation that passes the "Jimmy Kimmel test." Meanwhile, House Republicans and the White House backed away from supporting a bipartisan health care proposal.
The head of the EPA is open to hearing arguments that humans contribute to climate change.
The major television networks passed on hiring Sean Spicer as a talking head. And the president did not seem to enjoy Spicer's jab at the Emmys.
The Republican Governors Association has put up a website masquerading as news, the Associated Press found.
The president will be in Alabama on Friday. He'll be participating in a rally to gin up support for Sen. Luther Strange (R-Ala.), who is trailing a more conservative opponent in the special election.
Today's MicBite:
Former Secretary of State Hillary Clinton spoke with Mic on Tuesday. Tap or click below to watch a video from her interview.