Can a bankrupt Puerto Rico handle a direct hit from Maria?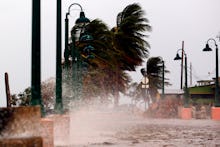 On Wednesday morning, Hurricane Maria bore down upon the shores of Puerto Rico, becoming the strongest hurricane to buffet the U.S. territory in more than 80 years of recorded history.
With winds of 155 mph and a Category 4 designation, Maria threatens to wreak havoc on an island already struggling to cope with crumbling infrastructure and crippling debt. Here's how the storm — catastrophic by any metric — poses a particularly devastating threat to Puerto Rico.
Puerto Rico is already struggling under the weight of a staggering economic crisis.
During an appearance on NBC's Today just hours after Maria made landfall, Puerto Rico Gov. Ricardo Rosselló warned that the island's existing fortifications were already "deteriorating rapidly."
"This is clearly going to be the most devastating storm in the history of our island," he said.
Despite Puerto Rico having escaped the full wrath of Hurricane Irma — the similarly historic and high-powered storm that decimated large swaths of the Virgin Islands — earlier this month, that storm still left an estimated 1.5 million residents without power. Due to the dire financial situations of the public utility companies, officials have said that it could take "months" to make the repairs necessary to bring the island out of darkness.
The scope of Irma's destruction, even after an indirect hit, is a harbinger for the full extent of the damage that Puerto Rico will likely sustain from Maria, a storm on course to chart a clear path through the island's interior.
"If Irma shook us up a little bit and gave us a rude awakening as to just how precarious the situation was, something like a Category 5 storm will have us without power for a time that is unimaginable," Philipe Schoene Roura, executive editor of the San Juan-based newspaper Caribbean Business, told NBC News.
Resources devoted to hurricane recovery mean resources diverted from economic recovery.
If Puerto Rico sustains damage from Hurricane Maria that's anywhere close to as bad as what's estimated, precious financial resources pledged to spur economic recovery will necessarily be reallocated toward repairs and cleanup efforts in the wake of destruction.
As the island struggles with a housing crisis that has seen a mass exodus of Puerto Ricans to the mainland U.S. in recent years, the island also finds itself sorely lacking skilled workers who can help both with efforts to rebuild and with breathing life into its flatlining economy.
While the U.S. military is expected to aid Puerto Ricans in the rebuilding efforts after Maria's rains have dissipated, the storm's impact can only spell trouble for a tiny nation already troubled by financial storm clouds that have been gathering for years.