Gabi Gregg's new lingerie line is super sexy, affordable and inclusive, with bras up to a size I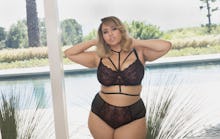 It makes sense that plus-size women would make the best plus-size clothes. They know what the plus-size clothing industry needs, after all, and they know what plus-size women want. Thankfully, that same logic has finally come into the lingerie business, with women who are plus-sized and do have larger busts designing dreamy bras and lingerie for women like themselves.
A prime example of this is blogger Gabi Gregg's new collection with inclusive lingerie brand Playful Promises. Gregg, widely known as @GabiFresh online, is a size 38HH herself, and her collection of black underthings are available in U.S. sizes 12 to 24 and U.S. bra sizes 36-38B-I and 40-44C-I.
"I'm all about statement-making pieces," Gregg said in an interview at Mic headquarters on Friday. "I didn't want to do a basic bra. I feel like basic bras exist and my biggest problem, as a HH cup, when I go into a plus-size store, they might have really cute and cool things up to a DDD. Even at a plus-size space, which is so frustrating because I want a cool piece. I want something that is sexy and makes me feel good in my skin."
In addition to the collection being incredibly inclusive in its sizing, the pricing options are on point too, with bras no more than $46. With larger bras often costing much more than that on average, this feels like a revelation.
"I like that some of it doubles under clothing as well," Gregg said. You can see the straps coming out. I wanted people to feel sexy. For me it's all about support. I can't wear a cute little bralette with nothing underneath, I just can't. For me, I'm all about getting that lift and support so that was most important to me."
Gregg is no stranger for pushing fashion forward herself, working with companies like SwimsuitsForAll, Target and Asos. This summer, she created her own plus-size brand with fellow blogger Nicolette Mason — called Premme — that's proven to be hugely successful.
"We launched our Curve Collection in 2016 with a number of styles selling out in the first week," Playful Promises founder Emma Parker said in a press release. "We see our collaboration with Gabi as a natural progression of our ethos to make sexy, fashionable lingerie for all body types."
With accessibility in mind, the collection is available now via Playful Promises' website, and will be available on Simply Be and in Nordstrom stores in the U.S.
Sept. 25, 2017, 10:58 a.m.: This post has been updated with quotes from Gregg.