A random man on Twitter tried to body shame her. Her response is the clapback to end all clapbacks.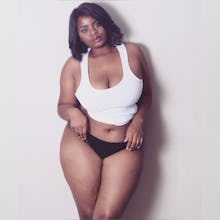 Four words was all it took to shut down the man who tried to body shame plus-size blogger Lesego Legobane, aka @ThickLeeyonce. Those four words — "I don't like you" — have garnered over 232,000 retweets and 750,000 "favorites" on Twitter in less than 24 hours. (For optics, a Donald Trump tweet issued within the same hour has 10,000 retweets and 48,000 "favorites.")
It all began when a Twitter user by the name of Layton Mokgerepi attempted a "vs." meme, which can take on a number of formats, ranging from "me vs. you" side-by-side images to the popular "when you order online vs. when it arrives in the mail."
Mokgerepi's take used a "Girls that I like vs. Girls that like me" template, which placed Legobane in the latter category, insinuating that only women of a certain size give him the time of day.
That assertion, it turns out, was wrong — and was proven so when Legobane issued her now viral, four-word response.
If 2000 will be remembered as the year of "I don't know her," then surely 2017 can be the year of "I don't like you" — an evergreen response applicable to so many situations.
Legobane, who was born in and resides in Johannesburg, South Africa, said she first saw the meme after she was tagged in it. "I decided to reply because I felt he was being rude," Legobane said in an email. "My response was simple and straightforward. I had no idea it would get so much attention." That includes attention from Nicki Minaj, Ariana Grande and Ava Duvernay, plus over 7,000 new followers.
"I'm overwhelmed by the love from people from all over the world, it's so so so sweet," Legobane said. "I've been getting DMs from women thanking me for embracing my body and loving myself. This is why body positivity on a public platform is so important, because others able to draw inspiration from me and I appreciate that, it means a lot to me that I can change someone's perception about their physical appearance by loving my own."
As for her poignant message to the man at the center of her unexpected viral fame: "I hate it when men think that fat girls are desperate and that we like every other guy because 'we don't have options,' Legobane said. "It's utter nonsense. I can be fat and still be out of your league."
And that, my friend, is how you master the fine art of the clap back.