Jeff Mateer called trans children part of "Satan's plan." Trump nominated him to be a federal judge.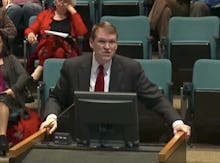 In early September, the White House announced a slate of new nominations to federal judgeships. One of those picks, Jeff Mateer of Texas, has a history of disturbing anti-LGBTQ views, as CNN reported on Wednesday, and has railed against transgender children and same-sex marriage while supporting so-called "conversion therapy."
Jeff Mateer, who currently serves as the first assistant attorney general of Texas, is President Donald Trump's pick to serve as a district judge on the U.S. District Court for the Eastern District of Texas.
Mateer previously served as both general counsel and executive vice president of the First Liberty Institute — a Texas-based legal advocacy group that, as the Texas Observer reported, has defended the rights of public servants who refuse to grant marriage licenses to same-sex couples.
In a statement, Equality Texas, a statewide LGBTQ rights group, called First Liberty a "hate group" that "has used anti-LGBTQ policies to blatantly vilify our families and neighbors," according to the Observer.
Mateer himself has spoken derisively about LGBTQ communities — including transgender children, as CNN reported on Wednesday. In a 2015 speech called "The Church and Homosexuality," Mateer spoke about a lawsuit over a transgender girl's right to use the bathroom at her school.
"In Colorado, a public school has been sued because a first grader and I forget the sex, she's a girl who thinks she's a boy or a boy who thinks she's a girl, it's probably that, a boy who thinks she's a girl," Mateer said in the speech, which was uploaded to Vimeo.
"And so she has now sued to have a right to go in. Now, I submit to you, a parent of three children who are now young adults, a first grader really knows what their sexual identity? I mean it just really shows you how Satan's plan is working and the destruction that's going on."
In the same speech, Mateer said that same-sex marriage would open the door to other types of unions, CNN reported, telling the crowd, "I submit to you that there'll be no line there. ... I mean, it's disgusting. ... Have you ever heard the word 'throuple'? 'Throuple' so that's three people coming together of different sexes, maybe mixed sexes. Them coming together. There are people who marry themselves. Somebody wanted to marry a tree. People marrying their pets."
Also in 2015, Mateer criticized recent bans on so-called "conversion therapy," an anti-LGBTQ practice that has been widely discredited and condemned by health professionals and banned, to various degrees, in several cities and states.
"Biblical counselors and therapists, we've seen cases in New Jersey and in California where folks have gotten in trouble because they gave biblical counseling and, you know, the issue is always, it's same sex," Mateer said in November 2015, speaking at a conference, CNN reported.
"And if you're giving conversion therapy, that's been outlawed in at least two states and then in some local areas. So they're invading that area," he said.
Mateer's nomination must still be confirmed by the Senate. A spokesperson for the Texas office of the attorney general declined to comment on Mateer's past statements.