Mitch McConnell reportedly plans to bring Graham-Cassidy health care bill to a vote in Senate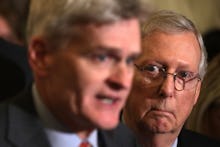 A spokesperson for Sen. Mitch McConnell of Kentucky announced Wednesday that the Senate Majority Leader fully intends on bringing Graham-Cassidy, Republicans' fifth attempt to repeal the Affordable Care Act, to a vote in the Senate ahead of the looming Sept. 30 deadline.
"It is the leader's intention to consider Graham-Cassidy on the floor next week," the spokesperson told Politico.
The health care bill, co-authored by Republican Sens. Lindsey Graham of South Carolina and Bill Cassidy of Louisiana, drastically reduces the role of federal government in the American health care system, reallocating funds from states that expanded Medicaid under the ACA and redistributing that funding to all 50 states in the form of block grants.
The bill needs at least 50 votes from senators in order to successfully pass — and the public has reason to believe it may fall four votes short of that threshold. Republican Sen. Rand Paul of Kentucky on Friday provided the most explicit denouncement of Graham-Cassidy, rebuking his Senate colleagues' health care proposal as "Obamacare Lite."
Sens. John McCain of Arizona and Susan Collins of Maine, whose votes against the so-called skinny-repeal of the ACA in July torpedoed its chance of passage, have also expressed their doubts about Graham-Cassidy.
Sen. Lisa Murkowski of Alaska, who also voted agains the skinny repeal, has yet to give insight on which way she is leaning on the bill. On Tuesday evening, Murkowksi's spokesperson told Mic that the senator is "still in the process of vetting the bill and determining the impacts of the bill to Alaskans."
An analysis of Graham-Cassidy carried out by the Center on Budget and Policy Priorities, a liberal leaning think-tank, found that Murkowski and Collins' states stand to lose millions in federal funding under Graham-Cassidy. Arizona, McCain's state, stands to lose at least $1 billion.
This loss of critical funding for their states' health care program could hamper the senators' support for the bill.
Though Graham lauded his bill for empowering states to make their own individual decision with respect to health care, a possible amendment from Republican Sen. John Kennedy of Louisiana would prevent any state from creating its own single-payer health care system, raising concerns about how much agency states will actually have under Graham-Cassidy.
Republicans have until midnight on Sept. 30 to galvanize support for Graham-Cassidy, gain approval on it from the Senate parliamentarian and pass it through Congress.