Melania Trump condemned bullying during UN lunch. Is she actually doing anything about it?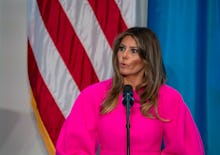 First lady Melania Trump condemned bullying during remarks at a United Nations luncheon Wednesday, calling on leaders to "step up, come together and ensure our children's future is bright.
"We must teach each child the values of empathy and communication that are at the core of the kindness, mindfulness, integrity and leadership which can only be taught by example," the first lady said. "By our own example, we must teach children to be good stewards of the world they will inherit."
Trump announced in November that she would make combating cyberbullying her focus as first lady, saying that "our culture has gotten too mean and rough."
Critics have pointed out that her husband, President Donald Trump, has contributed to that "mean" culture with relentless, vicious attacks on those he considers enemies — including his former rival, Hillary Clinton, who was the target of a violent GIF retweeted by Trump on Sunday.
Clinton told Mic on Tuesday that the first lady has not been doing enough to combat bullying, saying that online harassment "has a particularly damaging effect on young people."
"I think it's a really important issue, and if she were serious and able to follow through on it, I bet there would be so many people who would be willing to try and help her out on that," Clinton said.
But top experts in the field told Mic in July that neither Trump nor anyone from her team had reached out to them in the eight months since she announced her anti-bullying campaign — something that does not appear to have changed since.
Sameer Hinduja, co-director of the Cyberbullying Research Center and professor of criminology at Florida Atlantic University, said Wednesday that his team still hadn't heard from the first lady and isn't aware of any colleagues who have, either.
"We stand at the ready to help anyone meaningfully interested in preventing and responding to cyberbullying and online abuse," Hinduja said in an interview.