Poll: One thing most Americans like about Trump is his decision to work with "Chuck and Nancy"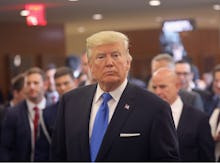 After months spent slamming congressional Democrats as "obstructionists" with "no message," President Donald Trump surprised the American people by working with Democratic leaders on key issues ranging from raising the debt ceiling to protecting recipients of the recently rescinded Deferred Action for Childhood Arrivals program.
Now members of the president's own party have yet another reason to fear that their leader may "[fall] into the arms" of the opposition: The American public seems to love it when Trump sides with "Chuck and Nancy."
According to a new poll released by the Wall Street Journal and NBC News on Thursday, more than 70% of American adults approve of Trump's bipartisan dealings with Democratic leaders Chuck Schumer and Nancy Pelosi in reaching a deal to keep the government open for 90 days and provide hurricane relief to victims of Harvey and Irma.
In a presidency beleaguered by record-shattering unfavorables, the scoring on Trump's work with Democrats represents one of the president's highest approval ratings on any decision he has made since inauguration.
However, it's also the only "A" on an otherwise dismal report card. The same poll found that only 25% of American adults approve of his decision to pardon Sheriff Joe Arpaio, 24% approve of how his administration has handled the environment and climate change and — in his lowest score — 20% of Americans approved of Trump's handling of the white supremacist violence in Charlottesville.
Republican leadership in Congress didn't fare well, either: NBC News noted that approval ratings for Senate Majority Leader Mitch McConnell and House Speaker Paul Ryan hit "their lowest personal ratings in the survey's history" following Trump's excoriation of them on Twitter.
Though the poll did not gauge how the public feels about Trump's work with the Democrats on more polarizing issues like immigration, its findings may still cast a long shadow over the president's dealings with his unified GOP Congress. As more reports come out that suggest the president is on the outs with McConnell and Ryan and more reports come in that suggest the president is cozying up to Schumer and Pelosi, the president may turn to his favorite metric in deciding with whom to partner: ratings, ratings, ratings.
Those numbers don't bode well for his Republican Congress.