In the debate over pre-existing conditions, only one person is right. And it's Jimmy Kimmel.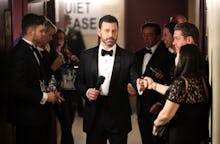 Welcome to Mic's daily read on Donald Trump's America. Want to receive this as a daily email in your inbox? Subscribe here.
Every day, we bring you a different dispatch on Trump's America. Today's focus: There can only be one truth.
Thursday's Dispatch: There are not two correct sides in the health care debate. Jimmy Kimmel's is the right one.
Another night, another monologue. For the second day in a row, late-night TV host Jimmy Kimmel ripped Republicans for their support of the Graham-Cassidy legislation. Kimmel has focused his attention on people who would lose coverage of pre-existing conditions if the bill passes.
The ABC host's response came after multiple Republicans said Kimmel did not understand the legislation. "I am sorry he does not understand," Sen. Bill Cassidy (R-La.) told CNN on Wednesday. Sen. Lindsey Graham (R-S.C.) said Kimmel's assertions that people would lose pre-existing condition coverage are "absolute garbage."
On Wednesday night, Kimmel again responded during his opening monologue. "[Cassidy] proposed a bill to allow the states to do all the things he said he would not let them do," the host said.
To be clear: Health care experts believe only one side of this debate has merit. And it's not the view championed by Senate Republicans.
Graham-Cassidy would unquestionably open the door to insurance companies again charging people with pre-existing conditions more for health insurance. That would happen by letting each state decide what insurance plans can be offered — the approach before the Affordable Care Act.
Pre-Obamacare, each state had different rules governing what coverage was required. Many did not require health insurance plans cover existing illness and those that did had unstable ways to pay for the care.
"If Graham-Cassidy becomes law, there is no guarantee a child born with a congenital heart defect will get the coverage they need," the director of Georgetown University's Center for Children and Families told Politico.
Despite this, Republicans are doubling down on their promises about what the bill will do. President Donald Trump, for example, tweeted Wednesday night that the legislation preserves pre-existing condition coverage.
That language technically remains in the bill, but it does not force insurers to cover the sick or more expensive in the same way Obamacare mandates it. And it would let insurers charge people with pre-existing conditions more for their coverage — pricing them out of being able to afford insurance.
Put simply: Obamacare guarantees coverage of pre-existing conditions. Graham-Cassidy would not. Kimmel is right.
Today's question: Will Republicans regret promising coverage of pre-existing conditions when it's clear Graham-Cassidy will not mandate it? Please email your thoughts to trumpsamerica@mic.com.
Thursday in Trump's America:
A vote on the health care bill is planned for mid-next week. Sens. Lisa Murkowski (R-Alaska) and John McCain (R-Ariz.) are still undecided. Murkowski, especially, is facing substantial home state pressure to vote no on Graham-Cassidy. She says she's still crunching the numbers.
Two must-read Russia stories: Special counsel Robert Mueller is seeking documents related to Trump's actions in the White House as part of his Russia investigation, the New York Times reported. And the Washington Post revealed former Trump campaign chairman Paul Manafort offered to brief a Russia billionaire on the election — while he was running Trump's campaign.
Note to the Oval Office: People like Trump's bipartisan dealing with Democrats. Will that bring about permanent change? (Note this could evaporate amid this health care fight.) And don't worry, Trump base, the president is running Facebook ads promising "the wall" will still be built.
Preet Bharara, a talking head Trump loathes, will now appear regularly on CNN as a paid contributor. The president fired Bharara as the U.S. attorney for the southern district of New York.
ISIS is rapidly collapsing. Here's the latest.
With North Korea actively testing nuclear weapons, Trump may end the Obama-era deal with Iran to prevent the country from further developing its nuclear program.
Racial tensions are again reaching a boiling point in St. Louis, three years after the shooting of a black man by a white police officer in Ferguson, Missouri, triggered days of unrest.
Breitbart, again backed directly by Steve Bannon,is going all-in on electing a conservative over the choice of the establishment and president in Alabama's special senate election.
Turns out, Sean Spicer was not apologizing.
Process to monitor: It appears Facebook executives will be called before the Senate Intelligence Committee in October. That might include Mark Zuckerberg.
Trump issued disaster declarations for the U.S. Virgin Islands and Puerto Rico in the wake of Hurricane Maria pounding the Caribbean territories with Category 4 winds.
Today's MicBite:
Another excerpt from Mic's interview with former Secretary of State Hillary Clinton: A question about how to overcome sexism in politics. Tap or click below to watch the video.