Sean Spicer on whether he's ever lied to the American people: "I don't think so"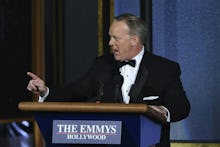 Former White House press secretary Sean Spicer doesn't think he's ever lied to the American people.
Or at least that's what he told ABC News in an interview broadcast Thursday morning.
"I don't think so," Spicer told ABC's Paula Faris when asked specifically whether he's lied to the public.
"Unequivocally you can say no?" Faris asked, pushing Spicer on his claim that he didn't think he ever lied.
"Look, again, you want to find something," Spicer said. "I've not knowingly done anything to do that, no."
Spicer's claim leaves him wiggle room.
He didn't unequivocally say he never lied to the American people. He said he didn't "knowingly" lie, leaving room for interpretation.
Spicer's comments come just four days after he took to the stage at the Emmy Awards to poke fun at his lie that President Donald Trump had the largest crowd at a presidential inauguration in history.
That lie kicked off Spicer's brief tenure behind the White House briefing room podium, and set the tone for what was a contentious relationship with the press.
But it wasn't the only lie Spicer either made or defended.
During his tenure as press secretary, Spicer repeated Trump's lie about voter fraud, saying millions cast illegal votes in the 2016 presidential election.