This Muslim American woman is running for Congress as a direct challenge to Trump's agenda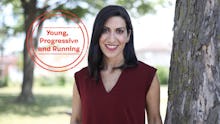 With just over a year until the 2018 elections, Democratic candidates are already lining up in record numbers to offer the first major electoral challenge to the Trump administration. And for Fayrouz Saad, becoming the first Muslim woman ever elected to Congress would be the ultimate rebuke to Trump's agenda.
"It's important to have people who can kind of chip away and defy the narrative that Donald Trump has put out there about people of color, immigrants, minorities, women, Muslims and so on," Saad said in an interview with Mic.
Saad is running to be the Democratic candidate in Michigan's 11th Congressional District, a seat that recently became competitive after the incumbent Republican Rep. Dave Trott announced he would not seek re-election. After Trott's announcement, Cook Political Report moved the district from "leans Republican" to "toss-up."
A Michigan native born to Lebanese immigrants, Saad got her first glimpse into civic and political life as a young girl, when her older sister recruited her to help register new voters at immigration naturalization ceremonies.
"I was only a teenager at the time, but it was just really cool to see people's reactions," Saad said "I remember one man just being so excited, he's like 'Yeah, I just became an American and I can't wait to vote, and of course I'm going to register.'"
Saad later became a field organizer in Michigan for John Kerry's 2004 presidential campaign. From there she went on to work for a grassroots organization dedicated to politically engaging Arab-Americans, and eventually she landed a job in the Office of Civil Rights and Civil Liberties in President Barack Obama's Department of Homeland Security.
"As an Arab-American, Muslim American, I wanted to go work at the Department of Homeland Security because I felt like it was important to go and understand this department, how it works, how decisions are made." Saad said.
"What are the types of conversations that are happening on the inside and be a voice at the table, as well. A lot of times our community might have a not such a good relationship with DHS and I really wanted to go be on the inside and learn more."
Though she feels sympathy for her former colleagues who decided they would rather resign than work in the Trump administration, she hopes that many of the people she worked with will stay to keep the department from being overtaken by Trump staff.
"There are good people on the inside who really care about the public and are trying to find a way to protect our country and protect people's rights and protect people's liberties," Saad said. "I don't know who has stayed and gone, but I know there's still good people on the inside and I hope that they stay."
Saad left the Obama administration prior to the election to become the director of immigrant affairs for the city of Detroit.
After her home state of Michigan helped hand the election to a man vowing to bar Muslim immigrants from entering the country, Saad says she immediately started considering how she could work to push back against President Donald Trump's agenda.
"Sometimes I think, 'Man, I should have taken a couple days just to like mourn and be sad and then get going,'" Saad said. "But I couldn't, like I just wanted to start to fight back and resist as soon as possible and looking for ways to do that."
Heartened by the groundswell of protests that popped up the day Trump announced his travel ban on immigrants from several majority Muslim countries Saad decided to run for elected office.
Running in a heavily gerrymandered district northwest of Detroit, Saad will first face a contested primary against Haley Stevens, a manufacturing executive who served as chief of staff on Obama's Auto Task Force during the rescue of the auto industry in 2009.
Saad thinks she can win by running on her record in Washington and Detroit and by supporting progressive policies like a Medicare for all health care system.
"I think that people are ready for change," Saad said. "They're ready for someone who not only aligns with them on values like universal healthcare and protecting our environment and even empowering our small businesses, but someone whose going to be present in their community as well."
Mic reached out to Stevens' campaign for comment but did not receive an immediate response.