A history of Jimmy Kimmel's war with the GOP on health care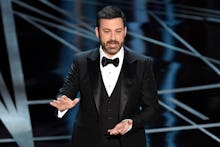 Jimmy Kimmel's scorched-earth campaign against Republicans seeking health care repeal isn't over yet.
During his Tuesday night monologue, the Jimmy Kimmel Live host excoriated Sen. Bill Cassidy (R-La.) for using Kimmel's show to falsely claim that the newly proposed Affordable Care Act replacement bill he co-sponsored with Sen. Lindsey Graham (R-S.C.) would not allow families to be denied medical care because they couldn't afford it. And on Wednesday, the late-night host pulled no punches when he delivered a searing update to that screed, aimed squarely at the conservative detractors trying to nail him with what he referred to as the "all comedians are dummies card." 
But while Kimmel's back-to-back polemics successfully drew national attention to a bill that Republican leaders are apparently attempting to jam through the Senate before anyone has a chance to realize what's happening, his war with the GOP on health care has been quietly simmering in the background for months.
The necessity of affordable health care hits close to home for Kimmel.
On April 21, Kimmel and his wife, Molly McNearney, welcomed a baby named William. While the first few hours of the infant's life were seemingly healthy and uneventful, within hours his skin had turned blue and doctors became concerned that he wasn't receiving enough oxygen. Eventually, the baby was diagnosed with tetralogy of Fallot with pulmonary atresia, a rare heart defect that required him to be rushed into immediate surgery.
The initial procedure to repair his son's heart was successful, Kimmel explained in an emotional monologue during his May 1 show. But for the millions of families who had struggled to afford health coverage in the United States prior to the protections put in place by the Affordable Care Act, the care that Kimmel's son was able to receive might have been out of reach.
"Before 2014, if you were born with congenital heart disease like my son was, there was a good chance you would never be able to get health insurance because you had a pre-existing condition," Kimmel explained. "You were born with a pre-existing condition, and if your parents didn't have medical insurance, you might not even live long enough to get denied because of a pre-existing condition."
The harrowing experience of his son's birth seem to change Kimmel. The late-night host was suddenly extolling the virtues of affordable health care on the air. 
A week after Kimmel's impassioned speech about his son, Cassidy coined the phrase "the Jimmy Kimmel test," which, as he described it, is a simple yes or no question: "Would a child born with congenital heart disease be able to get everything she or he would need in the first year of life?" Cassidy later appeared on Kimmel's show to double down on his claim that he would fight to ensure that working class families were able to receive the benefits they needed.
The fight against repeal and replace
But as many have already pointed out, Cassidy's own bill fails the Jimmy Kimmel test.
The legislation, which he co-sponsored with Graham after three previous failed GOP repeal attempts, would likely leave at least 15 million fewer Americans insured, and would also kick the issue of lifetime insurance caps over to the states.
On his Tuesday show, Kimmel blasted Cassidy for being disingenuous.
"It seemed like [Cassidy] was being honest," he said. "He got a lot of credit and attention for coming off like a rare, reasonable voice in the Republican Party. ... And this new bill actually does pass the Jimmy Kimmel test, but a different Jimmy Kimmel test. With this one, your child with a pre-existing condition will get the care he needs — if, and only if, his father is Jimmy Kimmel. Otherwise, you might be screwed."
Kimmel's campaign against the bill was met with anger from right-wing pundits and politicians alike, who reverted to familiar refrains of "stay in your lane." But Kimmel fired back Wednesday, claiming that he understood the fine print of the bill just fine.
Oh, I get it, I don't understand because I'm a talk show host, right? Well, then, help me out, which part don't I understand? Is it the part where you cut $240 billion from federal health care assistance? Am I not understanding the part where states would be allowed to let insurance companies price you out of coverage for having pre-existing conditions? Maybe I don't understand the part of your bill in which federal funding disappears completely after 2026? Or maybe it was the part where the plans are no longer required to pay for essential health benefits like maternity care or pediatric visits? Or the part where the American Medical Association, the American College of Physicians, the American Academy of Pediatrics, the American Hospital Association, the American Cancer Society, the American Diabetes Association, the American Heart Association, Lung Association, Arthritis Foundation, Cystic Fibrosis, ALS, the National Multiple Sclerosis Society, and the March of Dimes, among many others, all vehemently oppose your bill? Which part of that am I not understanding?
To his detractors, Kimmel explained on Tuesday that politicizing William's condition was exactly what he intended to do, because he feels an obligation to use his platform to give voice to the families who have the most to lose, should the Affordable Care Act be successfully repealed.
"My family has health insurance," Kimmel explained. "We don't have to worry about this, but other people do, so you can shove your disgusting comments where your doctor won't be giving you a prostate exam once they take your health care benefits away."
During his September 21 show, Kimmel followed up his first two monologues with a third attempt to nail GOP leaders over their health care legislation, this time taking aim at Trump himself.
During a tirade against Trump's support of the bill, which he had tweeted out earlier in the week, Kimmel expressed his doubts that the president even had the faintest orientation with the language of the proposed legislation.
"He doesn't know the difference between Medicare and Medicaid," Kimmel said. "He barely knows the difference between Melania and Ivanka."