What to know about traveling to the Caribbean after this hurricane season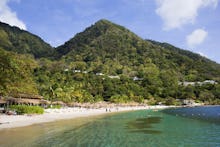 News coverage has focused on the unprecedented trail of ruin and wreckage that hurricanes Maria and Irma wrought across the Caribbean, but not every island was devastated. After all, the region encompasses more than 1 million square miles, and several of the most popular destinations are still open for business, including Aruba, the Dominican Republic, Grenada, Jamaica and the Cayman Islands.
While those places remain as welcoming as ever for travelers, the storms caused severe damage on several islands, including Puerto Rico, Dominica, St. Martin, the British and U.S. Virgin Islands and fashionable St. Barts. All remain in a recovery status that will be measured in weeks and months, if not years.
According to CNN, Hurricane Irma alone is estimated to have killed at least 44 people in the Caribbean; caused an estimated millions of dollars in damage to homes, businesses and public structures; and abruptly halted the tourism activities that are the Caribbean's lifeblood.
The Caribbean is among the world's most tourism-reliant regions. Money spent by visitors at island hotels, restaurants and tourist attractions is the essential engine for local economies.
There are several ways to contribute directly to the region's recovery, but one of the best things a concerned traveler can do for the post-hurricane Caribbean is to plan a visit to the areas that are still open. Here's our comprehensive overview of where you can safely travel — but opening dates were still fluctuating as of publication time, so check directly with a resort before you book your next trip.
Which islands were affected?
Irma's 185-mph winds, followed days later by Maria's 155-mph blasts, inflicted varying degrees of damage to several countries in the Caribbean's northern Leeward Islands and further north.
Anguilla
The island suffered widespread damage to homes, businesses and hotels, but later received relief supplies from Seaborne Airlines and clean-up is proceeding at a "rapid pace," according to an Anguilla Tourist Board statement. As a British overseas territory, Anguilla is also receiving relief supplies and logistical assistance from the United Kingdom.
Several top island resorts were badly damaged. The Four Seasons resort was "ripped apart" by Irma and sustained "probably $20 million of damage," Barry Sternlicht, chairman and CEO of Starwood Capital Group, said in a CNBC interview.
Anguilla's CuisinArt Golf Resort and Spa and its sister property The Reef by CuisinArt were "significantly affected" and remain closed as damage assessment continues, officials said. Several other resorts were also closed for the season when Irma hit and remain on track to resume operations in the winter.
British Virgin Islands
The British Virgin Islands were badly damaged by Irma. Several hotel and resort properties were essentially destroyed, and it will likely be months before leisure travel can resume.
In a statement issued on Sept. 14, Gov. Augustus Jaspert announced BVI ports were open to receive food and supplies. The BVI Tourist Board is providing updates on its Facebook page. Two of the territory's leading hotels, Rosewood Little Dix Bay and the Bitter End Yacht Club, were closed for renovations or seasonal shutdowns but nevertheless sustained significant damage.
Other BVI properties, including the Long Bay Beach Club and the Scrub Island Resort, Spa and Marina, remain closed as damage assessments continue. Travelers should check with individual properties to confirm upcoming reservations through 2017.
St. Barts
Gustaf III airport reopened on Sept. 13 and electrical power and water production had been restored by Saturday. On the day the airport reopened, French President Emmanuel Macron visited the country, an overseas French collectivity, to assess damage and deliver supplies.
Top island hotels were closed for the season, like the Cheval Blanc St. Barth Isle De France, Le Guanahani and Le Sereno. The latter two sustained damage during the hurricane.
St. Martin
Of the destinations affected by Hurricane Irma, St. Martin was among the most severely hit. Public areas like the popular Maho beach, tourist sites and island resorts across the French-Dutch dual-nation island all suffered heavy damage. Tourists were evacuated in the days following the storm, and French military and police forces were deployed to help maintain order. The governments of France and the Netherlands have been providing people, supplies and aid as well.
Officials from the Collectivité of Saint Martin are working to clean up debris, distribute materials and restore local water, sanitation and electricity networks. Daniel Gibbs, the president of the Collectivité, met with Macron to discuss recovery initiatives.
Virtually every hotel and resort on both the French and Dutch sides suffered damage. Mercure St. Martin Marina and Spa, La Playa Orient Bay, Oyster Bay Beach Resort, Riu Palace St. Martin, Summit Resort Hotel, Westin Dawn Beach Resort and Spa and the island's three Sonesta properties all sustained substantial damage following Irma and remain closed until further notice.
Turks and Caicos
Although the Turks and Caicos archipelago sustained a near-direct hit from Irma, many hotels and resorts in the territory were in the midst of seasonal closures. Several properties remain closed as operators assess damage, with most planning to reopen in the fall. Some properties, including the Seven Stars Resort and Spa, are open. The Palms, The Sands and The Shore Club expect to reopen on Sept 30.
Other resorts — including Amanyara, Alexandra Resort, Beach Enclave, Beach House, Blue Haven Resort, Tuscany, Venetian, Villa Del Mar and West Bay Club — expect to reopen in October. COMO Parrot Cay and Gansevoort Turks and Caicos expect to open in November, and Beaches Turks and Caicos will begin accepting guests in mid-December.
U.S. Virgin Islands
Irma caused significant damage to infrastructure in St. Thomas and St. John, Beverly Nicholson-Doty, the U.S. Virgin Islands' tourism commissioner, said in a statement. Although St. Croix avoided a direct hit from Irma, it was hit hard by Maria.
Vacationers were evacuated from St. Thomas and St. John aboard cruise ships operated by Norwegian Cruise Line and Royal Caribbean Cruises and flights operated by Delta Air Lines amid damage to nearly every major resort property. The U.S. Virgin Islands Department of Tourism has requested that people who scheduled visits to St. Thomas and St. John postpone the trips.
"We believe the majority of visitors have now departed St. Thomas and St. John, and we are working feverishly to establish the number of accommodation options available to house relief workers as we work on rebuilding the district," Nicholson-Doty said.
Many of the resorts on St. John and St. Thomas — including Caneel Bay, Frenchman's Reef and Morning Star Marriott Beach Resort, Ritz-Carlton St. Thomas and the Windward Passage Hotel — sustained significant damage and will remain closed until further notice. The popular Bolongo Bay Beach Resort, which is housing relief workers, expects to reopen in December.
How can travelers help?
Fortunately there are already signs of recovery and movement toward the return of tourism activities that are the region's lifeblood.
"Tourism is the quickest way to rebound an economy, put people back to work and generate badly needed tax revenues to support reconstruction," Karolin Troubetzkoy, president of the Caribbean Hotel and Tourism Association, said in a statement.
CHTA has launched a Caribbean Tourism Recovery Fund with nonprofit partner Tourism Cares. The Caribbean Tourism Organization has also created a GoFundMe page for relief donations.
The Anguilla Progressive Association of New York, a nonprofit organization working with the local government, is coordinating Anguilla recovery donations. Anguilla Beaches is working with the Anguilla Red Cross on collections. Turks-and-Caicos-based Grace Bay Resorts, which expects to reopen Grace Bay Club on Sept. 30 and West Bay Club on Oct. 1, has launched a fund to assist its employees affected by Irma.
Where can travelers go?
Several islands emerged relatively unscathed from the storm and continue to host visitors. These places include the Cayman Islands, Haiti, Jamaica and St. Lucia, plus the entire southern Caribbean region, including Aruba, Barbados, Grenada, Curacao and Trinidad and Tobago. Caribbeantravel.com is an authoritative resource for information on Caribbean destinations, and the site posts hurricane and travel updates.
Although it emerged as a staging area for regional rescue efforts following Irma, Hurricane Maria caused severe damage across Puerto Rico. Tourism activities are expected to be interrupted for some time, although a preliminary assessment of the damage has yet to be completed.
Martinique lent logistical and humanitarian support post-Irma, sending two ships from the Martinique Customs Division to deliver food and water to St. Martin. Also, Haiti-based carrier Sunrise Airways airlifted 150 people from St. Martin to Curacao on Sept. 12.
Other Irma-affected territories are working quickly to resume tourism activity and rebuild infrastructure. Many hotels and resorts are also waiving rebooking or cancellation fees.
As hurricane season continues, recovery for the Caribbean will be a long road.The beginning of the U.S. winter marks the primary tourist season, and the destination will rely heavily on travelers as it begins to heal.