These clever Twitter hacks will make you a money guru in no time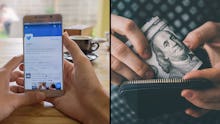 Twitter is great for jokes and getting news, but an undersung feature of the platform is its treasure trove of financial knowledge and advice — assuming you know where to look. And even if you use Twitter primarily to waste time, there's something to be said for sprinkling a little financial wisdom into your viral meme-driven reading diet.
You might already know, for example, that it's a smart idea to start saving at a young age if you want to end up with a million dollars. But seeing visually how much less you'll have to save each year to get there if you begin in your early 20s — as opposed to your late 30s — makes that lesson all the more vivid.
Twitter has a place: Though it's no replacement for fact-checked, balanced news stories or visiting a financial adviser, it can be advantageous to see or hear information straight from the horse's mouth, so to speak.
As the Equifax scandal continues to develop, for example, journalist Brian Krebs' feed has been a great resource. Having covered multiple breaches at credit bureaus in the past, he has been asked by many journalists to explain the scandal for their stories. If you know the right accounts to follow, Twitter makes it easier to stay informed — and maybe even get abreast of news before it is widely published.
One problem? Twitter has a reputation for being hard to use — its own cofounder said as much back in 2010. And as recently as 2016, famous technology critic Walt Mossberg said Twitter had become "secret-handshake software," something power users understand but that's confusing to anyone on the outside.
How can you not just casually check Twitter, but adopt it as a daily resource to grow smarter about finances — and get answers to your most pressing money questions? Follow this step-by-step guide to tweet your way to money wisdom.
1. Curate a list of money experts to follow
Figuring out whom to follow on Twitter is no easy task. When you first sign up for the social networking service, many of the accounts it suggests you follow are culled from your phone contacts. While Twitter can be a fun place to mess around with friends while you're waiting in line at the grocery store, odds are your pals aren't going to be the financial gurus you're looking for.
A good place to start? A lot of financial professionals on Twitter include the abbreviations for any certifications they've earned in their bio. To that end, typing CPA — short for certified public accountant — in the search field is sure to bring up individuals who probably tweet about taxes a lot. CFP, or certified financial planner, is one of the better certifications to use for seeking out personal finance advice, since CFPs must pass an exam covering the intricacies of real-life financial scenarios, including everything from investing and estate planning to what sorts of insurance you need.
The hashtag is one of the cruder tools for discovering people to follow, as it allows you to find people who are talking about certain topics. Instead of using Twitter's search function, use a third-party app like Hashtagify, which makes the process a little easier and user-friendly by letting you look at who's using a certain hashtag — and related hashtags — all at once.
The problem with this approach is that not everyone uses hashtags very often. To find those accounts, you should avail yourself of Twitter's advanced search, which lets you refine queries to include only the results you're looking for. For example, surrounding the term with quotation marks will only yield results that include that exact phrase.
A particularly useful operation? Weed out spammy links by including "-http" in your query — that'll weed out all the corporate blogs and help you find real conversations and more engaged users.
That said, it's smart to follow a few key corporate accounts for publications like Money, Kiplinger, Baron's, WSJ Personal Finance, NYT Business and Consumer Reports. And an expert tip is to also look at which accounts those publications follow — since those lists tend to be relatively short and include top writers, editors and influencers in the money space.
For example, if you check out the 21 accounts the WSJ is following, you'll see, among others, Jason Zweig: an investing columnist well worth a follow for his reading recommendations and financial history factoids.
2. Become a power user with the right money communities
To find the smartest financial voices on Twitter, you want to go to them.
If you're a stock market investor, for example (even if that just means you are saving money for retirement through a company-sponsored or individual retirement account), StockTwits is a useful app that lets you see what people are tweeting about the companies in which you're particularly interested.
StockTwits also has its own internal feeds for when you really want to tune out the nonfinancial nonsense. While it's rarely, if ever, a good idea to try trading stocks based on day-to-day news, keeping your finger on the pulse will help you learn about what influences the markets and keep you up-to-date about the latest information from any companies you're following.
If you want to find the really niche accounts, you may want to break out an economic calendar. Though Twitter itself sees the most activity during lunchtime, a lot of the best financial commentary happens early in the morning, when traders are waiting for U.S. markets to open at 9:30 a.m. Eastern.
The best time to poke around money Twitter? Try the first Friday of every month at around 8:30 a.m. Eastern. That's when the Labor Department releases its monthly jobs data, something most of the financial world scrutinizes and has opinions about. And the Federal Reserve has a regular meeting eight times a year that money Twitter tends to weigh in on.
As you follow more and more people, you may start to see your Twitter feed become cluttered. Tools like Twitter lists — a curated group of accounts to follow, made by others (so you can subscribe) or created for yourself — or a manager like TweetDeck can help you separate accounts into special feeds.
3. Get interactive
By now you've found some accounts to follow, but to truly get the most out of Twitter, you need to get better at actually using it. After all, there are lots of ways to find videos or articles by experts: Twitter's value is the ability to share opinions with — and ask questions of — those people.
Anxious about how you sound on Twitter? Character limits are one of the hardest things to get used to — and while you can easily get around this by taking screenshots of a longer piece of text in another application like Notes, brevity is at the heart of this particular medium.
To that end, use link shorteners like Bitly to make sure you get as much room as possible to say what you want to say. The Hemingway writing app can also be a helpful tool; simply type in a sentence and the app will analyze your writing and suggest ways to cut it down.
For something even more basic, SumAll built an easy tool for novices called Tweet Better that scrutinizes your tweets and recommends improvements.
Finally, whether you're concerned about privacy or simply want to take a bit of the pressure off, a company called Memset created a helpful tool called TweetDelete that lets you automatically delete tweets as they age.
Sign up for The Payoff — your weekly crash course on how to live your best financial life.