Support for single-payer health care surges as Republicans try and repeal Obamacare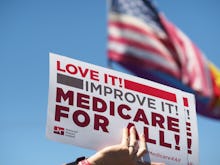 Nearly half of voters support a single-payer, government-run health care system, according to a new Politico/Morning Consult poll released Thursday.
According to the poll, 49% of voters favor a single-payer health care system like the one introduced by Sen. Bernie Sanders (I-Vt.) and supported by more than a dozen Senate Democrats. A single-payer health care system is opposed by 35% of voters.
The poll comes as Senate Republicans gear up to vote on a bill that would repeal popular protections granted by the Affordable Care Act, including provisions that don't allow insurance companies to charge people with pre-existing conditions more for coverage.
Few Senate Republicans are defending the merits of their plan. Instead, Republicans are setting up the vote as a choice between their plan and Sanders' "Medicare-for-all" proposal, according to the Daily Beast.
However the Politico/Morning Consult poll shows that argument may not be enough to build support for their repeal effort.
Support for single-payer has actually grown since April, the last time Politico/Morning Consult surveyed voters on single-payer — led by support from Democratic voters.
In April, 54% of Democrats backed single-payer, according to Politico's report. That number now stands at 67% among Democrats.
A single-payer health care system isn't even strongly opposed by Republicans. A little more than half, or 52%, of Republicans oppose a single-payer plan. A third of Republicans, or 33%, support the proposal.
Senate Majority Leader Mitch McConnell, however, said he intends to hold a vote on the GOP's ACA repeal bill next week — ahead of a Sept. 30 deadline.