Here are all the Russians known to have had contact with Team Trump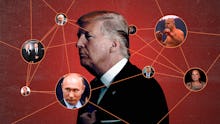 President Donald Trump has continuously dismissed the rapidly intensifying investigations into his campaign's ties to Russia as "the single greatest witch hunt of a politician in American history."
"Russia is a ruse," Trump said during a press conference in February. "I have nothing to do with Russia."
But despite his denials, over the years the president and his associates have had a great deal of contacts with Russians — some of whom have been suspect and of interest to special counsel Robert Mueller and others examining the Kremlin's alleged interference in the 2016 presidential election.
Here are all the Russians we know of who have had contacts with Trump, his campaign staff and his administration:
Oleg Deripaska
Former Trump campaign chairman Paul Manafort offered to brief Oleg Deripaska — a Russian aluminum magnate with ties to the Kremlin — on the 2016 race, the Washington Post reported Wednesday.
The Russian billionaire, whose alleged ties to organized crime got him banned from visiting the United States in the late 1990s, is a longtime associate of Vladimir Putin, though he's also been the target of public shaming from the Russian president.
Manafort has admitted to working for Deripaska, though he has denied the work was designed to advance Putin's interests, as the Associated Press reported in March.
Natalia Veselnitskaya
Natalia Veselnitskaya is the Kremlin-connected lawyer who met with Donald Trump Jr., Jared Kushner and Manafort during a now-infamous sit-down at Trump Tower in June 2016.
Trump Jr. had been promised that Veselnitskaya had dirt on Democratic presidential candidate Hillary Clinton collected by the Russian government, emails released by the president's eldest son in July showed.
Her previous clients include a Russian spy agency once run by Putin and a Russian under U.S. criminal investigation for money laundering revealed by lawyer Sergei Magnitsky, whose 2009 prison death led to U.S. sanctions against Moscow.
Alleged former Soviet spy-turned-lobbyist Rinat Akhmetshin was also present at the meeting, along with Ike Kaveladze, a senior vice president at one of Russia's leading real estate development companies and Anatoli Samochornov, a Russian-born American translator who had previously worked for the U.S. government.
Aras and Emin Agalarov
Aras Agalarov — a real estate developer known as the "Trump of Russia" — and his pop singer son, Emin Agalarov, played a key role in Trump bringing the Miss Universe pageant to Moscow in 2013.
Trump and the wealthy Agalarovs also planned to work together to build a Trump Tower in Moscow, something Trump openly discussed on social media that same year.
Trump and the Russian father and son also had a personal relationship that included Trump giving Emin Agalarov a birthday shoutout in a public video message and appearing in the music video for his 2013 single, "In Another Life."
It was through Emin Agalarov's publicist, Rob Goldstone, that the Trump Jr.-Veselnitskaya meeting was arranged.
"This is obviously very high-level and sensitive information but is part of Russia and its government's support for Mr. Trump," Goldstone wrote to Trump Jr. in 2016.
"If it's what you say I love it," Trump Jr. replied.
Fedor Emelianenko
Trump's failed foray into mixed martial arts in 2008 brought him into a partnership with Fedor Emelianenko, one of the violent sport's most fearsome fighters and friend to Putin.
Trump had partnered with Affliction Entertainment to host major MMA fights and to film a reality show about Emelianenko. "His thing is inflicting death on people," Trump once said about fighter, who was also known as the "Last Emperor."
But the venture ended quickly when the company's only two events lost millions, according to Politico, and the show about Emelianenko was never filmed.
Sergey Kislyak
Few have figured as prominently into the ongoing Russia saga as Sergey Kislyak, Moscow's former ambassador to the U.S.
Kislyak's discussion about sanctions with Michael Flynn led to the retired general being forced to resign in scandal from his role as national security adviser less than a month into Trump's presidency.
His two — or three? — contacts with Jeff Sessions during the 2016 campaign led the attorney general to recuse himself from matters relating to the Russia probe, much to his boss's chagrin.
The December meeting between Kislyak and Trump's son-in-law, Jared Kushner, brought the senior adviser under increased scrutiny, particularly after it was revealed that Kushner had left dozens of foreign contacts off his security clearance form.
Sergey Lavrov
During a meeting at the White House in May, Trump reportedly revealed "highly classified" information to Russian Foreign Minister Sergey Lavrov and Kislyak.
Trump had been bragging about the intelligence he receives — "I get great intel," he apparently said — when he evidently spilled important information on the Islamic State said to have been collected by Israel.
The meeting — held the day after Trump fired then-FBI director James Comey, whom he described to the Russians as a "nut job" — was also attended by a Russian photographer who published pictures of the Oval Office rendezvous.
Felix Sater
Felix Sater — a Russian-born real estate developer and former FBI informant who was convicted of racketeering in a Russian mafia-linked stock fraud scheme — claimed in emails to Trump lawyer Michael Cohen that he could use his connections to get Putin behind a plan to bring a Trump Tower to Moscow, which he believed could help Trump win the presidency.
"Our boy can become president of the USA and we can engineer it," Sater wrote, according to the New York Times. "I will get all of Putins team to buy in on this, I will manage this process."
The emails from Sater, a former business associate of Trump, showed that the real estate mogul-turned-politician had been pursuing business interests in Russia during his campaign for president — something Trump had repeatedly denied doing.
Victor Podobnyy
Victor Podobnyy is the Russian spy who targeted Carter Page — a foreign policy adviser to Trump's presidential campaign — for recruitment in 2013.
Podobnyy met Page at an energy conference in January of that year and exchanged emails with him for six months after, Page confirmed, explaining that no sensitive documents were ever shared.
Podobnyy — who described Page as an "idiot" — was later charged in absentia with Igor Sporyshev as part of a Russian spy ring. Another Russian operative, Evgeny Buryakov, pleaded guilty to a charge of conspiring to act as a foreign agent and was sentenced to 30 months in prison; he had been using his position at the Manhattan office of VEB Bank as cover for espionage.
Sergei Gorkov
In December, Sergei Gorkov — a graduate of Russia's spy school and head of the state-owned Russian bank Vnesheconombank — took a meeting with Kushner, who left the rendezvous off his security clearance form.
The bank, which has been subject to U.S. economic sanctions, is known to have financed a number of prominent Kremlin projects, including spy operations in the U.S., according to the New York Times.
The Kushner-Gorkov meeting — set up by Kislyak — is not the only link between Gorkov's bank and Trump. As the Wall Street Journal reported in May, Vnesheconombank helped finance Trump International Hotel and Tower in Toronto back in 2010.
Anatoly Antonov
Anatoly Antonov, Russia's former deputy foreign minister, succeeded Kislyak as Putin's ambassador to the U.S. in August.
Antonov — who was sanctioned by the European Union for his role in Russia's annexation of Crimea in 2014 — said he received a "friendly and warm" reception from Trump when the two met earlier in September.
"I told [Trump] that we count on improving relations between our two countries," Antonov told Russian state media. "We agreed with his colleagues, his staff, to continue cooperation."
Vladimir Putin
Finally, there's the big man himself: Russian President Vladimir Putin.
Trump and the former KGB agent traded compliments throughout the 2016 presidential race. However, the then-candidate insisted he "never met Putin" and that he didn't "know who Putin is" — despite floating the idea of meeting the Russian leader when he was in Moscow for the Miss Universe pageant back in 2013.
"Do you think Putin will be going to the Miss Universe Pageant in November in Moscow?" Trump tweeted at the time. "If so, will he become my new best friend?"
The two leaders officially met in July at the G20 Summit in Germany.
Though Secretary of State Rex Tillerson — who has deep business ties to Russia and Putin himself — said the president pressed his Russian counterpart on the country's interference in the U.S. election, Lavrov claimed Trump accepted Putin's denial and agreed to move on.
Trump said it was an "honor" to meet with Putin, who said he was "delighted" to meet Trump.
Did they become "best friends" upon finally meeting? It's not clear.
As G20 leaders attended a private dinner that same day, Trump left his seat to sit by Putin. The two had a private, hourlong conversation attended only by the Russian president's official interpreter.
"Pretty much everyone at the dinner thought this was really weird, that here is the president of the United States, who clearly wants to display that he has a better relationship personally with President Putin than any of us or [who] simply doesn't care," Ian Bremmer, president of the Eurasia Group consulting firm, told the New York Times. "They were flummoxed, they were confused and they were startled."