Police shooting of deaf man shows, yet again, how police fail people with disabilities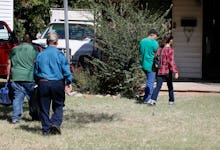 Madgiel Sanchez, 35, was fatally shot by Oklahoma City police Tuesday night — friends and neighbors have reportedly said Sanchez was killed after police repeatedly yelled at him to drop a metal pipe he was holding. However Sanchez, who was deaf, couldn't hear the police — and his death highlights how deaf and disabled people face an increased risk of violence when interacting with police.
According to a statement from the Oklahoma City Police Department, officers arrived at Sanchez's home Tuesday night to investigate a hit-and-run accident. Sanchez was on his porch, holding a 2-foot-long metal pipe.
According to police, officers gave "verbal commands" to Sanchez to drop his "weapon" but he continued toward the officers, at which point Sgt. Christopher Barnes shot him.
Julio Rayos, a neighbor who witnessed the shooting, told the New York Times that he, his daughter and about six other neighbors tried to intervene, screaming at the officers that Sanchez was deaf and couldn't hear their orders.
"Don't kill him, he's deaf," Rayos' daughter yelled. "Don't do it!" But, even as neighbors screamed that Sanchez couldn't hear the police's commands, both officers responded with force — Lt. Matthew Lindsey used his Taser and Barnes discharged his weapon "multiple" times, according to the Times. Sanchez was pronounced dead at the scene.
Rayos told the Times that the metal pipe Sanchez was holding at the time of the shooting was always with him. Rayos said Sanchez carried it as protection against stray dogs in the neighborhood and also used it to communicate with friends and neighbors.
Barnes, the officer who shot and killed Sanchez, has been placed on paid administrative leave. The other officer, Lindsey, is still on active duty, an Oklahoma City Police Department spokesperson said Wednesday, the Times reported.
People with disabilities are at an increased risk
For disability rights advocates, Sanchez's death is a tragic, but not altogether unfamiliar, reminder that interactions with police are disproportionately more dangerous for people with disabilities, especially when they are also people of color.
"I would love for people to understand that this is not uncommon at all, unfortunately — it's quite common," Talila Lewis, an organizer and the volunteer director of Heard, a Washington, D.C.-based nonprofit that focuses on incarceration of and police violence against deaf and disabled people, said Thursday by phone.
Heard maintains a database of police brutality against deaf people, and, according to Lewis, the violent response police had to Sanchez, whom neighbors say posed no threat, is not unusual.
"People of color, indigenous people, black people, with disabilities and/or deafness, are at increased risk of not just encounters with law enforcement, but also of violence in those encounters," Lewis said.
In many of the cases the organization has tracked, Lewis said, police have interpreted deaf people's attempts to communicate as aggression — and responded with force.
According to Susan Mizner, disability counsel for the American Civil Liberties Union, the data that's available makes it "crystal clear" that "people with disabilities are at increased risk of violence in interacting with police."
"From FOIA requests and media searches, most reports have found people with disabilities are between 30% and 50% of those who police kill," Mizner said in an email Thursday.
"This is far higher than our representation in the general population. Anecdotally, we also know a large percentage of people with disabilities who are killed are people of color."
Many cases of police violence against people with disabilities may go unreported
And, according to Mizner, those numbers are likely lower than the reality. Police aren't obligated to report the disability status of victims of police violence — so some cases may slip by unreported.
But some of those cases do make headlines: There was the 2013 case of Ethan Saylor, a 26-year-old with Down syndrome who died of asphyxiation when off-duty police in Maryland confronted him over trying to re-enter a movie theater without paying, or Daniel Harris, a 29-year-old deaf man who was shot and killed by a North Carolina state trooper in August 2016 after Harris didn't pull over during a traffic stop.
In one case that Mizner offered as an example, John T. Williams, a Native American woodcarver, was fatally shot by a Seattle police officer after he didn't respond to commands to drop the carving knife he was carrying. Williams was deaf in one ear, and hadn't heard the officer's orders.
For each of those cases, though, there are likely more that go unrecorded. "If it is not written up, it won't be counted," Mizner said.