In another primetime lineup shuffle, Fox News will go live at 11 PM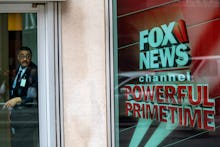 Fox News on Thursday announced a new live news hour at 11 p.m., the latest in a series of primetime changes prompted by the departure of Fox News host Eric Bolling.
Fox News at Night, the name of the program, will include a full hour of live news and analysis. It will be anchored by Shannon Bream, a Fox News correspondent who has most recently been covering the Supreme Court. Bream has also regularly served as a co-anchor on Fox News' morning news program America's Newsroom.
"With news breaking at all hours — and often late into the evening — the show will provide viewers with the very latest must-see information from [Fox News Channel's] deep bench of correspondents and experts," a company press release about the new program read. "It will function as a capstone on today's most consequential news, with an eye toward setting the table for tomorrow's ever-changing developments."
The program will premiere Oct. 30.
The new live show is the latest change in Fox News' primetime lineup since Bolling's departure and the cancellation of his 5 p.m. show, The Specialists, following allegations that he sexually harassed female colleagues.
On Tuesday, Fox officially announced that conservative commentator and Fox News contributor Laura Ingraham would host a new primetime program, The Ingraham Angle, at 10 p.m. That new program, which will also premiere Oct. 30, meant another change: Fox News show host Sean Hannity will move to the 9 p.m. hour to replace The Five, which is moving back down to the 5 p.m. hour following the cancellation of The Specialists.
According to the Washington Post, The Five initially moved to the 9 p.m. hour to replace Fox News host Tucker Carlson, who was moved to an earlier hour to replace ex-Fox News host Bill O'Reilly, who was ousted from the company in April following allegations of sexual harassment.
Bream's new, hour-long 11 p.m. show is also a departure from a longtime tradition at Fox News to fill the 11 p.m. hour with a rerun of the channel's popular primetime shows, with the occasional live news programming breaking in as warranted. For years, Fox News replayed the night's episode of The O'Reilly Factor, which first aired at 8 p.m., during the hour. Since O'Reilly left the channel, the 11 p.m. hour has featured reruns of Tucker Carlson Tonight, the show that replaced O'Reilly's.
MSNBC and CNN both have live news hours at 11 p.m.