3 key takeaways on the US sanctions on North Korea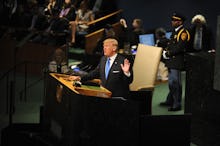 Amid North Korea's ongoing refusal to scale down its nuclear program, U.S. President Donald Trump announced on Thursday a sweeping new set of sanctions targeting companies and institutions that conduct business with the Hermit Kingdom.
Below are three key takeaways from Trump's executive order and what the sanctions will mean for North Korea and its allies going forward.
Trump seems to be backing down from his threat to "totally destroy" North Korea
During his remarks to the United Nations General Assembly on Tuesday, Trump threatened to obliterate North Korea if the country continued its typically belligerent rhetoric — but there was some ambiguity about what he meant.
"No nation on Earth has an interest in seeing this band of criminals arm itself with nuclear weapons and missiles," Trump said, referring to North Korean dictator Kim Jong Un and his advisors. "The United States has great strength and patience, but if it is forced to defend itself or its allies, we will have no choice but to totally destroy North Korea."
With Thursday's announced economic sanctions, it appears that — at least for now — the Trump administration is still prepared to operate through diplomatic channels rather than military force.
The Treasury now has an expanded ability to target Kim's supporters
According to Trump, the order was explicitly designed to give Treasury Secretary Steve Mnuchin the ability to "target any foreign bank knowingly facilitating specific transactions tied to trade with North Korea."
That includes a 180-day ban on any plane or ship that has visited North Korea — a move designed to enable the Treasury to "crack down on illicit trade."
"This significantly expands Treasury's authority to target those who enable this regime ... wherever they are located," Mnuchin told the Washington Post.
Mnuchin also told the Post the move was "in no way specifically directed at China," North Korea's largest trade ally.
There's no clear evidence sanctions will work
Technically, North Korea has been under U.N. sanctions since 2006, but that hasn't stopped the tiny country from ratcheting up its nuclear program or saber-rattling.
As recently as Sept. 11, the U.N. Security Council passed its toughest sanctions against the country yet, imposing limits on oil imports and banning textile exports in an effort to starve out the income it would ostensibly use to buttress its nuclear program.
On that day, U.S. Ambassador to the United Nations Nikki Haley said North Korea had "not yet passed the point of no return" and emphasized that the U.S. continues to seek and prioritize a peaceful solution to the nuclear snarl.
"If it agrees to stop its nuclear program, it can reclaim its future," she said. "If it proves it can live in peace, the world will live in peace with it."