Vice Media's video employees unionize after large-scale campaign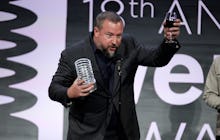 Hundreds of Vice Media employees involved in writing, producing and appearing in the company's television and video content have successfully unionized following a large-scale effort to organize.
The Writers Guild of America, East, and the Motion Picture Editors Guild will represent approximately 430 Vice Media employees and freelancers who work on video content for cable channel Viceland or Vice programming for HBO, union representatives announced Thursday.
In May, a delegation from Vice Media's organizing committee — on behalf of employees organizing across the Writers Guild, the Motion Picture Editors Guild and the Screen Actors Guild-American Federation of Television and Radio Artists — requested the media and broadcasting company honor employees' decision to unionize.
Vice voluntarily accepted Thursday after reviewing union cards employees signed indicating their support of the unions. On-air talent continues to organize under the Screen Actors Guild, according to the Wall Street Journal, which first reported the completion of the union drive and described the news as "a significant victory" for organized labor's attempts to unionize digital media.
"Today's victory is a huge step for current and future employees at Vice [Media] who want to build power and influence at our place of work and throughout the industry," the Vice Union Organizing Committee said in a statement. "We join our previously organized colleagues at Vice.com and our counterparts at Vice Canada, as well as news, digital media and nonfiction TV creators who have been empowered by the labor movement and successfully negotiated strong union contracts."
Seventy Vice employees who write for the company's website organized with the Writers Guild in 2015 as part of a flurry of organizing efforts across digital media, including sites like Gawker, the Huffington Post, the Guardian's U.S. edition and the Intercept. Many of those newsrooms have unionized with the Writers Guild, although the Guardian and Law360 opted to go with the NewsGuild, which also represents news organizations like the New York Times, Thomson Reuters and the Daily Beast.
Employees at DNAinfo, Gothamist and Slate who have signaled their intent to unionize continue to face aggressive anti-union campaigns from company management.