States will see major cuts to health care funding, according to Trump administration's own analysis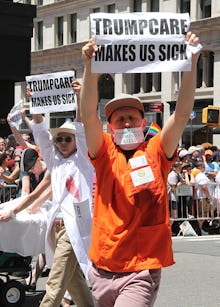 A Republican-proposed plan to repeal and replace the Affordable Care Act would cause federal funding for health care subsidies and Medicaid to fall drastically in a number of key states, according to estimates directly from the Trump administration, Axios reported.
The estimates from the Centers for Medicare and Medicaid Services (CMS) show that states such as Alaska, Colorado, Ohio and West Virginia — all of which have Republican senators who will be key to passing the bill drafted by GOP Sens. Bill Cassidy and Lindsay Graham — would see double-digit funding cuts by 2026.
Alaska would see a 38% cut in federal health care funding, a decrease that could make earning Alaska Republican Sen. Lisa Murkowski's vote challenging. Colorado — which has one GOP senator, Cory Gardner — would see a 24% cut by 2026. And West Virginia, where Republicans need to earn the vote of Republican Sen. Shelley Moore Capito, would see a 23% cut by 2026.
Even Cassidy's own state of Louisiana would be hit especially hard, seeing a 41% cut in federal health care funding by 2026, according to the CMS analysis, leaving his already cash-strapped state with a massive shortfall to make up.
Republicans are reportedly trying to cobble together an amendment that would shield Alaska from the cuts by letting the state keep the ACA funding structure — an offer being described as a bribe by opponents of the bill.
But it's unclear why other Republican senators in states that would also see double-digit cuts wouldn't also demand the same carveout.
The Trump administration's own analysis could make the odds of passing the GOP's ACA repeal bill even more challenging.
Senate Majority Leader Mitch McConnell said he intends to schedule a vote on the bill next week.