Venus Fest: The new, feminist music festival that's carrying on the spirit of Lilith Fair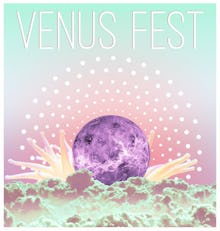 Earlier this year, while commemorating the 20th anniversary of the female-centric traveling music festival Lilith Fair, Sarah McLachlan, who spearheaded that lady-forward extravaganza in the '90s, was often asked if she'd reboot it for the 21st century. "Someone of this generation needs to do it, if they choose," she told Rolling Stone over the summer.
On Sept. 30, at the Daniels Spectrum gathering space in Toronto's Regent Park neighborhood, Venus Fest — which bills itself as "a Canadian music and arts festival in the spirit of feminism" — will take on that challenge with its first installment. Headlined by producer and vocalist Madame Gandhi, the single-day fest's bill isn't beholden to one genre, but its focus on women and nonbinary performers results in a wide-ranging, stacked lineup; the roster features acts like the skewed pop outfit Weaves, the electro agitator Emel Mathlouthi and the global bass artist (and 2017 Polaris Music Prize winner) Lido Pimienta.
Even though Lilith broke through live music's glass ceiling 20 years ago, the idea behind it still seems radical in 2017, when major music gatherings like Coachella and Glastonbury continue to be dominated by male-fronted acts — of all genres. That's where Venus comes in. "I've wanted something like this to be around for as long as I've been playing music," Venus's organizer and founder, the Toronto musician and spiritual healer Aerin Fogel, said via phone from her home in Toronto. "But the idea to launch it got started in April."
This past spring, a confluence of events led to Fogel being inspired to start Venus. One was an all-woman bill that she played with a few friends — the first time, she recalled, that she had been on such a lineup. "I noticed, also, how easy it felt to organize the show working with these women — working together to book the date and to get the lineup and get the invites out there," Fogel said. "At the same time, [I noticed] conversations that I had and watched other people have around the need for more intersectional space for women in the music community. It all came to a head in my own mind, and it felt like time to maybe start putting more action behind [a festival]."
Fogel's tenacity and connections helped the lineup come together quickly. Weaves — a Toronto-based band whose lead singer, Jasmyn Burke, has an electric stage presence and whose forthcoming album, Wide Open, features a cameo from Inuk throat singer Tanya Tagaq — signed on early, and Grouper, the loop-and-synth project of Portland-based musician Liz Harris, was a big get both name-wise and personally for Fogel. "Grouper was a hugely exciting confirmation to get," the 29-year-old Fogel said, "because I've been listening to her music since I was a sad 15-year-old girl. That gave me a lot of confidence in what the festival was and what I was doing — someone who I have so much respect for, who doesn't play a lot of shows, put her trust in what we're doing."
"I've wanted something like this to be around for as long as I've been playing music." — Aerin Fogel, founder of Venus Fest
The lineup also includes Fogel's new musical outlet Queen of Swords, an electropop duo who self-released its first record earlier this month; Witch Prophet, the shape-shifting solo-project alter ego of Toronto musician Ayo Leilani; and Hex, a trio that formed at Toronto's outpost of Girls Rock Camp, which immerses young women and nonbinary people in rock music a la theater and sports camps.
Fogel's partner in Queen of Swords, Kritty Uranowski, is involved with Girls Rock Camp, and Fogel noted that including its alumna on the bill honors the camp's mission as well as Venus' commitment to diversity at all levels. "I think almost [every adult] who gets a chance to interact with Girls Rock Camp comes away saying, 'I wish I had this when I was that age — I wish I had something when I was younger to help me foster my creativity and to help me connect with other women, other trans-identified people, other nonbinary people,'" she said. "It felt really important to me to consider not just gender diversity, but also racial representation, as well as age representation and artists that are at different stages of their careers."
"I was really excited and touched when I received the invitation," Emel Mathlouthi — whose second album, Ensen, came out earlier this year — said over the phone from New York. "I was very happy to see such an initiative taking place in a city like Toronto, and I felt very excited to be trusted and to be respected for the work that I do, and to also be among such creative and incredible female artists. It reassured me in what I do in my own work."
Venus' wide-ranging approach to booking, Fogel explained, reflects the way people listen to music in the streaming era. "Having a diversity of genre in the festival speaks to peoples' complexity as individuals," she said. "When I've asked someone what kind of music they like, the response [often] is, 'Oh, I like everything' — I've never heard someone say, 'Yeah, I just like this one type of music.' Different sounds, different moods, and different emotions can touch on different aspects in ourselves. In order to create a fuller and richer experience for people [attending], it's important to have a really broad spectrum of sounds and impulses."
Kiran Gandhi, whose electro-feminist project Madame Gandhi is headlining Venus, has toured with M.I.A. and Thievery Corporation. Madame Gandhi's 2016 debut EP, Voices, collects heady songs that quote Gloria Steinem while calling for more female influence on the world — an ideal that nestles right into Venus' mission. "I love playing festivals that are all women," Gandhi said via phone from New York.
"I move between spaces that need to hear my message and spaces that already know and need to just be energized by my message. … I [recently] played at the [Project Pabst] Festival in Philadelphia, where the main headliner was [hip-hop artist/TV foodie] Action Bronson. And I was like, 'What am I doing here?' It was all men in the audience. It was intimidating, but then it was actually beautiful, because even though I felt a little bit intimidated, a lot of the men were really into it. But we also need to go to spaces where we can feel energized by our peers."
"This is the first time that I've [played a festival with a focus on women and nonbinary performers]," said Mathlouthi. "By putting the focus on very interesting female artists, I didn't feel so alone anymore — seeing these females who are very independent, who are doing music that's beyond any commercial consideration and who are extremely creative, really helped me."
Venus' commitment to feminism's ideals of inclusion also informed the choice of venue. Fogel wanted to find a space that was accessible and that would allow gender-neutral bathrooms, and the event space Daniels Spectrum, which is affiliated with the Toronto cultural nonprofit Artscape, fit the bill.
It also led into the staffing of front-of-house positions like sound engineers — traditionally, areas of the music business that are thought of as the province of guys — being in line with the festival's ideals. "The venue we're working with is unionized," Fogel explained, "which is the only reason it might have been difficult to have female [or nonbinary] staff there. ... We requested women [and nonbinary] AV techs through the union, and it turns out their head of sound is a woman anyway!"
"Seeing these females who are very independent, who are doing music that's beyond any commercial consideration and who are extremely creative, really helped me." — Emel Mathlouthi
Venus is in its first year, and it's faced challenges — particularly when finding funding, even in relatively arts-friendly Canada. (Tickets range from $37 to $52 CDN and are priced on a sliding scale relative to attendees' income.) "There are a lot of funding programs that don't start application processes unless you're two to five years in the running," Fogel noted, "so we just didn't qualify for a lot of grants. Also, because we got started later in the year, we didn't end up finding a sponsor, so that definitely creates challenges and barriers."
But the fest's message of inclusivity and possibility — underscored by the lineup's across-the-board artistic excellence and Fogel's thoughtful execution — should continue to not only resonate but also expand, if the response to Lilith Fair's recent milestone anniversary is any indication.
"It was a coincidence that the 20-year anniversary of Lilith Fair [happened when] I had the idea," Fogel said. "It's been an interesting connection, thinking about what has and has not changed in 20 years in the music industry. ... In some ways, there's a lot more awareness than there maybe was 20 years ago. But at the same time, the fact that it still feels like we're trying to push upstream with this festival surprises me — it shows me that there's a lot that hasn't changed."