It was a record season for plus-size and transgender models at NYFW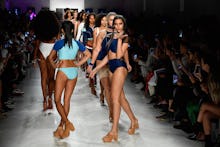 Watching New York Fashion week this season, we had a certain inkling that we were seeing more models of color on runways than ever before, and more plus-size and transgender models too. It felt like this season was signaling turning point for New York.
According to a new report from the Fashion Spot, which meticulously tracks diversity on fashion week runways, we were right.
For starters, more plus-size models walked in more shows than they have in recent history. There were a total of 90 plus-size and curve model appearances, at 12 shows in total.
Last season, in February, there were just 26 appearances and for Spring 2017 there were 16 appearances. That's a big leap.
Predictably though, the most size-inclusive shows did come from brands that cater to plus-size women, like Addition Elle and Torrid. However there still were high-fashion shows with plus-size and curve models, like Christian Siriano, Chromat, Prabal Gurung, Tracy Reese, Michael Kors and Anna Sui, who had her first plus model this season.
"Size diversity is still in the early stages of inclusivity," Jennifer Davidson, the editor-in-chief of theFashion Spot, said in an email. "But designers like Prabal Gurung, Tome, Michael Kors, Tracy Reese and more have shown that plus-size women can be included in an organic way. Hopefully more designers will follow suit in future seasons."
Transgender models had a similarly banner season too, with 31 transgender and non-binary model appearances across 29 runways. Compare that to the 12 appearances last season.
It seems as though Teddy Quinlivan, the model who just came out as trans as NYFW began, helped this number greatly, walking in 11 major shows herself. Other trans models who walked in the shows were Leyna Bloom, Aurel Haize Odogbo and the great Maya Monès.
"Body positivity and transgender acceptance have gotten a lot of media attention over the past couple of years, not just in the fashion industry but also on social media, television, print and film," Davidson said. "The runways have reflected these positive changes with slow improvements each season."
As for racial diversity, this was NYFW's most diverse season on record too. After the Fashion Spot analyzed 94 major shows and 2,601 model appearances, they found that 63.1% of castings were white while 36.9% were models of color.
Last season, 31.5% of models cast were models of color, and every show had at least one model of color. This season, there were at least two walking in every show.
Among the shows that helped us get to this percentage were Brandon Maxwell, who featured 62% models of color, Tom Ford and the Blonds, who each cast shows with 65% nonwhite models, and Chromat, who cast 72% nonwhite models.
"I think this season has shown that racial diversity has finally moved beyond tokenism," Davidson said. "At least two models of color in each show is a significant improvement over where we were just a few years ago where it was not unusual for shows to feature an all-white cast. Almost 37% models of color overall is progress and I'm optimistic it will continue to improve."
Clearly, designers at NYFW finally got the memo about how important it is to use a diverse set of models, but let's just see if the other fashion weeks — in London, Milan and Paris — get the same memo.