Trump bashes "Russia hoax" day after administration claims he supports investigation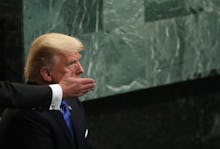 President Donald Trump dismissed the investigations into his campaign's ties with Russia Friday, slamming the "hoax" and his 2016 rival Hillary Clinton in a pair of early morning tweets.
The president criticizing the Russia investigation is nothing new; he's been calling allegations of collusion between his campaign and the Kremlin a "hoax" for months.
But this attempt to delegitimize the Russia investigation is notable because it comes one day after H.R. McMaster — Trump's national security adviser — said on CNN that both he and the president regard said investigation as, well, "legitimate."
"Questions about what [Russia] did, who might have helped them and how to stop it — you believe those are all legitimate questions for us to look at?" CNN's Chris Cuomo asked McMaster on New Day Thursday.
"Of course," McMaster said without hesitation. "And so does the president."
But as Cuomo noted, the president has done little to indicate he regards the investigation as such. On the contrary, he insists that it is "the single greatest witch hunt of a politician in American history!"
But Facebook has told Congressional investigators that a Russian "troll farm" with a history of pushing pro-Kremlin propaganda purchased $100,000 in Facebook advertising in a concerted effort to target would-be voters in the lead-up to the 2016 election — something that has been of increasing interest to special counsel Robert Mueller's rapidly intensifying investigation.
That investigation has appeared to close in on former Trump campaign chairman Paul Manafort, who has been the subject of a series of bombshell reports this week — including one that he had apparently offered private briefings on the 2016 race to a Kremlin-connected Russian billionaire. The former campaign chairman, who was being wiretapped by the United States government, had his home raided by federal agents in July, during which he was reportedly warned of a coming indictment.
But Trump pushed back on the impact of the Kremlin on his upset victory last November in his tweets Friday, saying instead that "fake news" exerted a greater influence on the election in favor of Clinton, whom he described as a "bad candidate."
The jab at Clinton came a little more than a week after he retweeted a gif edited to appear like he knocked her over with a golf shot.