Arrests, sit-ins, shouting — activists plan a week of nationwide protest to fight Graham-Cassidy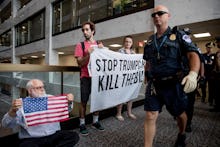 Welcome to Mic's daily read on Donald Trump's America. Want to receive this as a daily email in your inbox? Subscribe here.
Every day, we bring you a different dispatch on Trump's America. Today's focus: The health care fight.
Friday's Dispatch: With Obamacare on the line, various groups are planning to stop Graham-Cassidy
Since early March, when the first Republican effort to repeal and replace the Affordable Care Act was introduced in the House, activist groups have driven millions of phone calls and thousands of protesters to Washington.
To push for the bill's defeat, they led numerous rallies on Capitol Hill, occupied Senate offices, shouted in the Capitol building — and even learned, if they made enough noise, senators could hear them outside the Capitol.
Whether that activism is remembered as a force that helped drive the defeat of "repeal and replace" will be decided in the next week. And organizers plan to employ all their past tactics over the next few days.
The Center for Popular Democracy is flying and busing in people from across the country on Monday to attend the only Senate committee hearing planned for the bill. The center is hoping to turn out about 250 people — and is expecting about 100 arrests, said Jennifer Flynn Walker, director of mobilization and advocacy.
The goal is for people to tell personal stories about why they do not want Graham-Cassidy to pass. But if senators don't extend that opportunity to the audience, protesters will interrupt the hearing and shout their views, Walker said.
"People are not buying this bill is better than any others," she said. "We're begging. We're pleading. We're wishing. We're praying [this bill does not pass]."
Protesting GOP health care bills has become a monthslong, full-time job for grassroots and progressive organizations. National online organizers, like Indivisible and MoveOn, are pushing their members to support direct actions. Adapt, which organized protests by people with disabilities during earlier Trumpcare fights, will also be active on Monday and beyond.
"C-SPAN is going to be more exciting than usual on Monday," said Ben Wikler, Washington director for MoveOn. He described Republican support for the bill as "fragile," just as it was at the end of July. "The goal of resisting is to blow that coalition apart."
MoveOn is running a national day of action on Saturday with rallies and protests planned across the country to pressure lawmakers on their home turf. Activists groups Indivisible and Ultraviolet will run similar programs on Monday and Tuesday, respectively.
That direct action will come as nearly half of Republicans have still not held a town hall this year, according to TownHall Project. That includes Sens. Susan Collins (R-Maine), John McCain (R-Ariz.), Rob Portman (R-Ohio), Shelley Moore Capito (R-W.V.), Lamar Alexander (R-Tenn.) and Lisa Murkowski (R-Alaska) who have yet to hold a public town hall this year.
Murkowski, especially, faces intense pressure from both sides. Along with McCain, Murkowski is considered the most important swing vote on the legislation. On Thursday, Republicans rolled out a change to Graham-Cassidy that would free Alaska from the bill's Medicaid cuts. Yet another projection shows funding to Alaska would still be cut by 38% by 2026.
Shoshanah Stone, founder of Indivisible Anchorage, has held multiple events in recent days to pressure Murkowski, whose spokesperson told Mic the senators remains undecided. More than 100 people turned out for a rally Tuesday in Anchorage at Murkowski's local office.
"She sort of leaves everybody hanging to the last minute," Stone said of Murkowski, who was cheered at the Anchorage airport after her last vote against the GOP health care proposal. "I just don't believe she's not going to vote no. It would be crazy for her to flip.
"People would feel extremely betrayed."
Today's question: Are you planning to protest Graham-Cassidy or work to support its passage in the next week? Email us at trumpsamerica@mic.com with your thoughts.
Friday in Trump's America:
The latest on health care: The National Association of Medicaid Directors voiced its disapproval of the bill on Thursday. Insurance industry leaders also denounced Graham-Cassidy. The Congressional Budget Office will issue a partial review of the legislation next week, but it will not be a full analysis. The Commonwealth Fund estimated 32 million people would lose health insurance by 2026 under the bill.
Jimmy Kimmel is still pushing viewers to stop the bill. And a new poll says nearly half of Americans now support single-payer health care.
On that front: On CNN on Monday, Sens. Lindsey Graham (R-S.C.) and Bill Cassidy (R-La.) will debate Sens. Bernie Sanders (I-Vt.) and Amy Klobuchar (D-Minn.) on the merits of single-payer health care vs. the Graham-Cassidy plan.
Former vice presidential candidate Sarah Palin and former White House adviser Sebastian Gorka appeared in Alabama on Thursday night to support Roy Moore's bid for the U.S. Senate seat. President Donald Trump will appear at a rally with Sen. Luther Strange (R-Ala.) on Friday.
Trump issued further U.S. sanctions against North Korea. Here are the takeaways (companies that do business with Kim Jong Un's nation are targets). Kim responded by calling Trump "deranged" while North Korea threatened to test a hydrogen bomb over the Pacific.
A deep-dive from Mic: Here are all the Russians known to have contact with Trump.
In a reversal, Facebook will turn over Russian bought ads to Congress. Facebook is feeling bipartisan heat from lawmakers concerned over a lack of transparency around how Facebook influenced the election.
In an exclusive with Mic, Rep. Maxine Waters (D-Calif.) announced two bills that would lower penalties for minor drug offenses and push the federal government to investigative abusive police departments.
Following his response to two major hurricanes, Trump's approval rating is back over 40%, according to a new poll
Today's MicBite:
Another excerpt from Mic's interview with former Secretary of State Hillary Clinton: Describing a story where, early in her political career, Clinton was physically accosted by a man. Tap or click below to watch the video.
— Anthony Smith contributed to this report