Gabi Gregg and Nicolette Mason's Premme wants to make plus-size clothing truly cool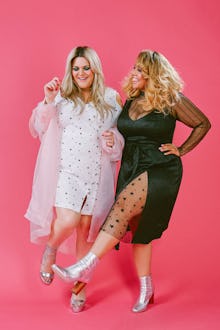 Bloggers Gabi Gregg and Nicolette Mason know how to break the internet. But they don't do it the Kim Kardashian West way, posing nude and hoping for the best. They do it by releasing some of the hippest plus-size clothing out there. When their brand Premme debuted in July, the collection sold out within minutes, and it went viral with more than 250 million media impressions.
On Friday, they released the first 11 pieces from their 26-piece Fall collection to similar excitement. There's a jumpsuit with a keyhole in the middle people are already flipping over. There's a T-shirt dress with a little attitude, with "NO ONE ASKED YOU" written across the neck, and a slinky black dress with cutouts.
In other words: the plus-size clothing you may have known growing up, with its unflattering silhouettes and truly unsexy vibe, can't come to the phone now. Why? Oh, 'cause it's dead.
"The goal's really been to make amazing statement pieces that our customer has never seen before," Nicolette Mason said in an interview at Mic headquarters on Friday. "We're all looking at the same runways. We're all looking at the same street style photos. We're finding inspiration in the same places as a person who's a size 0 to 12, but those options just don't exist in the market. And so we knew we wanted to make a line that was really beautiful, that caught people's eye, that would have this immediate reaction of, 'Oh my god I've never seen this before.'"
"The market has satisfied workwear, and basics and foundation pieces, as well as club wear pieces," Gabi Gregg, who goes by @GabiFresh online, said during Friday's interview. "So we wanted to be that in-between for that girl who's a little more grown up and wants to have fun with their wardrobe."
You hear that? Fun. And for Premme, that means creating pieces that are special, that they've taken the time to add little details to (like a T-shirt that's soft with a cute saying above the pocket), and ultimately creating a collection that isn't for everyone.
"A lot of brands want to be everything to everyone, and we want to have a really strong point of view with Premme," Mason, whose style icon is Solange, said. "We don't want it to be everyone's brand because I think at the end of the day we have a lot of that. There's a lot of same. There's not as many brands that are doing something that is so their own aesthetic. We wanted to create our own point of view that is conveyed through our fashion, our campaigns and even the models we choose."
For the pair, it's about evoking an immediate response. "We would rather have something that makes people have a guttural reaction," Gregg added. "Than something that makes someone go, 'Eh. OK, I've seen that before.'"
Speaking of campaigns, the lookbook images for their Fall collection is sexy and '70s-influenced, with the two founders donning pink glitter pantsuits from Premme's Fall collection, and see-through undershirts under dresses. That level of editorial styling has been a conscious decision for these women, in an effort to recast how people see the plus-size consumer.
"We want to inspire people to have fun with fashion, to be creative in their personal style," Mason said. "And I think that's something that's associated with youthfulness, but that should be accessible to people of all ages. Breaking that barrier too of how people perceive plus-size customer."
One of the most encouraging aspects of Mason and Gregg's success is that they are plus-size women, joining fellow plus-size women like Ashley Graham and Rebel Wilson in creating successful plus-size brands. It makes sense that people love their clothes because they know what's missing in the market and they know what plus women want. With Premme, they're getting the opportunity to make their own dreams of having a fabulous closet come true.
"The whole idea and approach we have to designing is that we're building our dream wardrobes," Mason said. "Things that we've always wanted but never found in our size. So that dictates everything with how we plan our styles and merchandising and what we make. Everything is something we're really excited about wearing."
Mason compares this realization that plus-size women making plus-size clothes proves successful to the recent Oscar and Emmy success of people of color and queer people finally getting to tell their stories, their own way, on TV and film.
"There's a big shift now in people of color and queer people doing their own storytelling, and I think about how important and captivating it is to be able to tell your own stories, and that's what we're doing with our own clothes," Mason said. "The authenticity comes through in every part. We're thinking about, how does it work when you put it on? Are you able to zip by yourself? The way the cutouts are placed, does it make sense, the way that weight distributes?"
With their success already, which they credit to not only understanding plus-size consumers but their dedicated fan bases, what they hope they're ultimately proving to the industry at large is whatever "risk" you think catering to plus-size consumers is, it's worth it.
"We hope eventually to be an industry leader in showing that plus-size women want cool designs," Gregg said. "And to pull the industry out of that mentality that says, oh we have to be safe. I think that a lot of brands are just safe. It's that same mentality that we don't want to lose money, so we're afraid to have a point of view. We're making what we want to buy, and we're not afraid to fail."
Judging by the reaction already to the first few pieces of their Fall collection, failing doesn't look all that likely.