Apple iPhone 8 Release: Here is why people who live outside the US are lining up here to buy it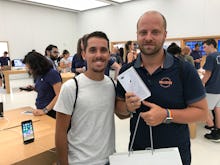 IPhone releases typically attract hoards of people to Apple stores. From long lines of people waiting to buy the original device, to lines around the block for the company's first dual-camera device — the iPhone 7 Plus, the company's new hardware consistently garners attention.
Buyers are usually willing to wait days and even weeks to get their shot at buying the new iPhone first.
But the keyword here is "usually." Friday seemed to be an exception to that rule, at least judging by the skimpy line at the Apple Store inside New York City's One World Trade Center complex on iPhone 8 launch day — a reminder that an even better iPhone is coming soon.
Sure, this line included dozens of people, each ready to make Apple $700+ richer. But the turnout pales in comparison to previous iPhone fanfare.
The "real" new iPhone, aka the iPhone X, is coming in November.
Still, that's not stopping some buyers from getting their iPhone fix, and many of the shoppers waiting in line seemed to have something in common. Mic spoke to some of these folks and discovered that several hailed from overseas, where Apple's most expensive devices are even pricier.
Just ask Alejandra Alba of Argentina.
"The iPhone back home costs three times more," Alba told Mic in Spanish. "I bought my previous iPhone, the 6, in Barcelona. The phone is cheaper here and in Spain than Argentina."
The iPhone 8 starts at $699 in the U.S. and €809 in Spain, which is equivalent to roughly $966 U.S. dollars. Apple doesn't list prices on its Argentina website, as phones are sold through third parties there, but costs are known for being high. The reason, Alba said, is taxes. "There are no Apple Stores in Argentina. You can buy the phone from telephone companies, but they're really expensive," she said.
According to Bloomberg, import taxes do indeed make devices like the iPhone at least 25% more expensive in the South American nation.
Jose Zegarra from Peru expressed similar sentiments.
"I'm leaving the city tomorrow to head to Norway, and after that Costa Rica, so I don't have time to wait for the iPhone X," Zegarra said.
Costa Rica is where Zegarra takes business classes. Like in Argentina, the purchasing of Apple phones in Peru and Costa Rica is done via third parties.
"Both in Peru and Costa Rica, [the phone] is very expensive ... because you buy the device from mobile phone companies," he said. "Here is cheaper."
Italy does have Apple stores, but that doesn't mean the phone is any cheaper there, buyer Alessandro Radaelli said. "Most people I know buy their iPhones from here," he said. "I bought the device outright. If I don't end up liking it, I can resell it."
The iPhone 8 starts at €839 in Italy — just over $1,000 in American dollars — versus $699 in the U.S., which is why Radaelli bought here. "This is my third time buying in the U.S.," Radaelli said. If he's not traveling, he buys the device through a friend.
Radaelli also mentioned buying an Apple Watch, but specifically said he wouldn't get one of the latest models with built-in LTE support, since those watch features don't work in Italy. He said he doesn't mind not getting the latest or greatest — though his partner is getting the iPhone X anyway.
Sign up for the Payoff — your weekly crash course on how to live your best financial life.