Among major cities, New York has one of the worst subway systems for people in wheelchairs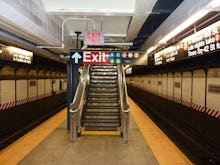 Mass transit is a blessing for those who live or work in cities. But for people who use wheelchairs, subway systems are full of obstacles. From lack of ramps to out-of-order elevators, there's a lot that consistently goes wrong — delays and heat notwithstanding.
"That it is stressful to live under the constant fear that I may not make it home is an understatement," David Choi, a New York City lawyer who uses a power wheelchair, wrote in an essay on Curbed. The subway is so unpredictable when it comes to wheelchair access that Choi has had to break apartment leases so he could move to live closer to jobs.
Just 117 out of the 472 New York City subway stations are fully accessible to people who use wheelchairs, the Guardian reported Thursday. That means a whopping 75% of subway stations aren't fully accessible.
Here's what the New York subway map would look like once nonaccessible stations are removed:
Nick Van Mead, the reporter who wrote the Guardian story about metro accessibility, analyzed the accessibility of seven major cities around the world, including Tokyo, Barcelona, Paris, Los Angeles and Washington, D.C. He was most surprised by the lack of accessible subway stations in Paris.
"Nine accessible metro stations out of 303 is abysmal, and no one I spoke to had a good thing to say about it in terms of accessibility — although parts of it look beautiful, of course," Mead said in an email interview with Mic. By comparison, the Los Angeles Metro's 93 stations are all fully accessible.
Mead said there's a clear "historical link" between the subway systems that aren't accessible compared to the ones that are. "Most lines and stations built since 1990 are accessible, for example, and metros built in the late 19th and early 20th centuries didn't have wheelchair access as a consideration," he said, explaining that dense cities like Paris and London have a hard time retrofitting their metros because of space issues.
Then again, Barcelona's been able to make more than 80% of its metro, which started operating in 1924, fully accessible, Mead said. Plus, other cities like Boston and Chicago retrofitted their old subway and rail stations to make them more than twice as accessible as New York City, according to the TransitCenter's Access Denied publication.
According to the report, "at the current pace of installing new elevators, New York City's subway stations would not reach 100% accessibility until roughly the year 2100."
Unfortunately, avoiding the subway isn't as easy as jumping in a cab. Even for those who can afford a lift across town, a large majority of cabs don't have accessible ramps, Choi noted in his Curbed essay. Only 4% of New York City cabs had ramps installed by 2015, Choi said.
At the current pace of installing new elevators, New York City's subway stations would not reach 100% accessibility until roughly the year 2100.
All New York City buses are wheelchair-accessible, but they are "notoriously slow and unreliable," Curbed noted. The city also has a service called "Access-A-Ride" that provides door-to-door transportation for individuals with disabilities, but it ended up costing more than it would have to retrofit the subways for accessibility, former MTA official Howard Roberts told the Wall Street Journal in 2016. Access-A-Ride carpools have been known to take up to six hours.
The Americans with Disabilities Act, which was passed in 1990, is supposed to ensure that people with disabilities have fair access to jobs, schools and transportation. But until city leaders prioritize budgeting for accessibility, swaths of city residents and visitors who depend on ramps and elevators to participate in life will be stuck.