Facebook's Russian-linked ad controversy, explained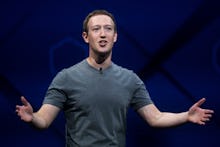 Facebook announced on Thursday that it would release a trove of more than 3,000 Russia-linked ads to federal investigators, doubling down on its previous pledge to help uncover the truth about reported interference by the Kremlin in the 2016 presidential election.
During a live broadcast on the site, Facebook CEO Mark Zuckerberg outlined the nine-point plan that the platform plans to use going forward in order to increase transparency and minimize the potential for foreign hacking.
"Facebook's mission is all about giving people a voice and bringing people closer together," Zuckerberg said. "Those are deeply democratic values and we're proud of them. I don't want anyone to use our tools to undermine democracy. That's not what we stand for."
The social media giant has been under pressure from Congress to turn over the materials ever since it divulged in early September that it had identified the $100,000 worth of political ads, which were reportedly purchased by a mysterious Russian company with ties to the Kremlin.
But not everyone is cooperating with federal investigators.
On Friday, President Donald Trump blasted reports of Russia's interference in the election and purchase of Facebook ads as a "hoax," and blamed the "totally biased and dishonest media" for continuing to cover the issue in a way that he said favored his 2016 election rival, Hillary Clinton.
Russia also denies the allegations of misconduct. On Friday, Dmitri Peskov, a spokesman for Russian President Vladimir Putin of Russia, denied that the Kremlin even possesses a working knowledge of how to advertise on Facebook.
"We have never done it, and the Russian side has never been involved in this," he said, according to the New York Times.
But despite not having the president's full-throated support, the Federal Election Commission and Congress are still pushing to tighten restrictions on what kinds of political ads are permitted to run on a site like Facebook.
In a post published on Thursday, Facebook general counsel Colin Stretch said that the social media giant has "grappled with the extraordinary nature of this particular investigation" in recent weeks.
"The questions that have arisen go to the integrity of U.S. elections," Stretch wrote. "And the limited information Congress and the intelligence community have shared with us to date suggests that efforts to compromise the 2016 election were varied and sophisticated — and that understanding those efforts requires a united effort, from across the technology, intelligence and political communities."
"We believe the public deserves a full accounting of what happened in the 2016 election, and we've concluded that sharing the ads we've discovered, in a manner that is consistent with our obligations to protect user information, can help," he added.