A new discovery could change the way we treat HIV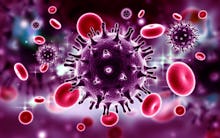 A recent scientific study found that a new kind of antibody is 99% effective against several types of HIV strains, which could have huge implications for the way we treat the virus in the future.
What makes this particular antibody different, according to the study published in Science Magazine, is that it uses three "broadly neutralizing antibodies," meaning it's able to attack various strains of HIV regardless of how the virus has mutated.
These "broadly neutralizing antibodies" occur naturally in patients who have had HIV for years, but they're only about 90% effective, so this new method is significantly more useful. In fact, zero of the 24 macaques who were injected with the antibodies contracted HIV when they were exposed to it later.
"It was quite an impressive degree of protection," Dr. Gary Nabel, one of the study's authors, told BBC News.
These new antibodies have yet to be tested in humans, but clinical trials will begin in 2018.
Currently, the most widely accepted drug for preventing HIV infection is PrEP, a daily pill combination of two HIV medicines that reduces the risk of contracting HIV from sex by more than 90%. There is currently no cure for HIV, but those who are HIV-positive can take a combination of drugs that are effective at preventing the virus from progressing. However, these drugs are often expensive, especially for those without adequate health insurance.
The World Health Organization estimates that about 36.7 million people have HIV globally.