Donald Trump's political clout will be put to the test in upcoming Alabama special election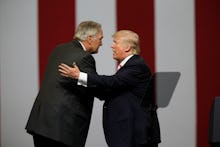 President Donald Trump's political clout will be tested on Tuesday, when voters will head to the polls in a special election Republican primary runoff in Alabama.
The race pits Trump's chosen candidate, Sen. Luther Strange, against a conservative firebrand in Roy Moore — whom Republican Party leaders have spent millions against in an effort to defeat him. Both are facing off in a GOP primary runoff for the ability to finish out now-Attorney General Jeff Sessions' term.
But if Moore ultimately wins, it could deliver an embarrassing blow to Trump — who often forces congressional Republicans into submission by reminding them of his ability to sic his base against those who defy his wishes.
"It would be personally embarrassing to Trump," Stu Rothenberg, a non-partisan political analyst said in an interview of a potential Strange defeat. "It would raise more questions about the president's personal clout with voters."
Trump endorsed Strange in August, ahead of the initial primary for the seat.
Yet Trump's endorsement wasn't enough to push Strange to victory in the first primary round on Aug. 16. Moore came in first place that round, but didn't garner enough support to win the primary outright — kicking the race to a Sept. 26 runoff with Strange, who finished second.
In the runoff, Trump has gone all in for Strange, even holding a rally Friday night in the state to try and boost Strange's chances in Tuesday's contest.
And Strange has touted his support from Trump at every turn, including in a Thursday night debate against Moore.
"You may resent that the president is my friend, and is supporting me in this race, but I think it's a good thing the president of the United States has a personal relationship with the junior senator from Alabama," Strange said to Moore during the debate, according to the New York Times.
Still, Strange's Republican opponent, Roy Moore, has led every public poll in the race. The RealClearPolitics average shows Moore with a nearly 9-point lead over Strange, just days before voters head to the polls.
And Trump seems to understand that Strange may not win, musing at a Friday night rally intended to boost Strange that Trump's own reputation was on the line.
"I'll be honest, might have made a mistake," Trump said of his Strange endorsement, adding that if Strange loses he would be blamed for not being able to pull Strange over the finish line.
Also at risk in Tuesday's election is Senate Majority Leader Mitch McConnell's reputation.
A super PAC with close ties to McConnell has spent millions to try and boost Strange and defeat Moore — whom Republican leaders fear will be a nuisance to wrangle on Capitol Hill.
And after crushing blows on repealing and replacing the Affordable Care Act, McConnell cannot afford to lose another battle.
"It would add a senator to the GOP team who is NOT a team player, potentially lessening McConnell's chances of passing legislation that he and the White House may want," Rothenberg said of a Moore victory.