Obamacare repeal looks dead, after McCain says he'll vote no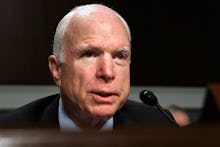 Republicans' latest effort to repeal and replace the Affordable Care Act is on the brink of collapse, after Sen. John McCain announced on Friday that he cannot support the bill proposed by GOP Sens. Bill Cassidy and Lindsey Graham.
"I cannot in good conscience vote for the Graham-Cassidy proposal," McCain said in a statement. "I believe we could do better working together, Republicans and Democrats, and have not yet really tried. Nor could I support it without knowing how much it will cost, how it will affect insurance premiums, and how many people will be helped or hurt by it."
McCain joins Sen. Rand Paul (R-Ky.) on the firm GOP "no" list. Sen. Susan Collins (R-Maine) said Friday that she's leaning against the bill.
"I'm reading the fine print on Graham-Cassidy," Collins told the Portland Press Herald, adding that for people with pre-existing conditions, "the premiums would be so high they would be unaffordable."
Without Collins' vote, Republicans would not have the 50 votes needed to repeal the ACA, better known as Obamacare. A handful of other Republicans, including Sen. Lisa Murkowski of Alaska, have also said they are undecided on the bill.
Facing a Sept. 30 deadline, Republicans hoped the Cassidy-Graham proposal could garner 50 votes and finally make good on the GOP's promise to repeal and replace Obamacare. But the Cassidy-Graham bill — which would allow states to charge people with pre-existing condition more for premiums and do away with mandates on essential health benefits — faced fierce opposition from doctors, health care groups and Democrats.
Late-night comedian Jimmy Kimmel, however, may have been the most effective detractor against the bill, devoting three fiery monologues to attacking the proposal.
Cassidy had gone on Kimmel's show earlier this year during a previous GOP-led Obamacare repeal effort, and said he wouldn't vote for a bill that did away with protections for those with pre-existing conditions. Cassidy ultimately named it "the Jimmy Kimmel test."
But Cassidy's bill didn't pass that test, and Kimmel delivered a fiery monologue accusing Cassidy of lying to his face.
After McCain announced he wouldn't vote for the bill, Kimmel thanked McCain on Twitter.
"Thank you @SenJohnMcCain for being a hero again and again and now AGAIN," Kimmel tweeted.
Sept. 22, 2017 2:28 p.m.: This article has been updated.