Trump attacked Hillary and the media ahead of Mueller news. Of course he did.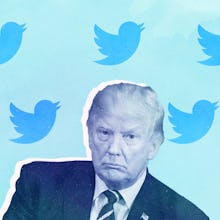 President Donald Trump spent the week attacking his two favorite targets: Hillary Clinton and the "fake news" media.
Then, the other shoe dropped in the Russia investigation.
A grand jury on Friday approved charges filed by special counsel Robert Mueller — the first in his intensifying probe into interference in the 2016 election and potential collusion between the Trump campaign and the Kremlin. While it isn't clear what the charges are or who they are against, an indictment is expected on Monday.
But, as he frequently does just before major developments in the Russia investigation, Trump seemingly sought to pre-empt the big reveal by shifting the narrative.
This week, he latched onto new information about a controversial Obama-era uranium deal to claim that not only did he not collude with Russia in 2016, but that his Democratic opponent, Clinton, did.
He's done this before
This is a familiar tactic for Trump when the Russia investigation heats up.
As Mic documented in July, just after it was revealed that the president's son — Donald Trump Jr. — had met with Russians at Trump Tower in 2016, Trump seemingly uses off-topic rants to change the narrative ahead of upcoming stories he finds upsetting.
Ahead of the news that Trump Jr. had met with a Kremlin-connected lawyer during the campaign, for example, the president took to Twitter to attack the media and Clinton's former campaign chairman, John Podesta.
The Washington Post also made note of this apparent tactic in June, when he sent a tweet that seemed to be "priming his base for the impending scoop" the paper landed that former President Barack Obama was informed of Russian meddling in August 2016.
"He presented Russian meddling as a lingering uncertainty — a matter of 'if,'" the Post's Callum Borchers wrote. "Yet he also pinned the blame for any meddling that might have happened on Obama."
He has continued to use a similar strategy of deflection and distraction since. For instance, in August, just before it was reported that former campaign chairman Paul Manafort's home had been raided by Mueller's FBI agents, Trump bashed the "Fake News Russian collusion story" and attacked Democrats, including Clinton, in angry tweets.
In the lead-up to the news that Mueller has ordered an indictment, Trump warred with Republican senators who'd criticized him and hammered Clinton over the Uranium One deal and her campaign's bankrolling of the explosive Steele dossier.
He has not yet commented on the charges Mueller will bring next week, but his allies have let loose on Twitter, going after Clinton, Mueller and the media on the heels of CNN's Friday night report.