Megyn Kelly: "There are so many reporters who are completely biased against Trump"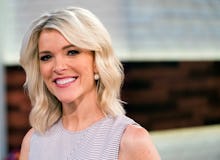 Megyn Kelly, the former Fox News host who on Monday will begin hosting the 9 a.m. hour of NBC's morning show Today, called out President Donald Trump for his treatment of the press, which she said put journalists "in a dangerous place." But she didn't hesitate to go after reporters, either — saying that some of them are "extremely biased" against the president.
In a wide-ranging interview with TV Newser, which was published Friday, Kelly called cable news prime time a "vitriolic stew," and said she was relieved to get to cover topics other than politics at her new gig.
"It's not the way it used to be, being a journalist today," Kelly, who has been going on a press tour in advance of the premiere of Megyn Kelly Today, said. "[Trump] is effectively — and not just him, but his most ardent supporters — have made us players on the field instead of on the sidelines where we belong."
"That's not to say there's not media bias," Kelly added. "There are so many reporters who are completely biased against Trump, it's absurd."
Kelly demurred when asked which reporters she would label biased, but she said that reporters "do themselves no service with that tactic."
"But that doesn't change the fact that [Trump] puts them in a dangerous place by targeting them," she said. "You've got the alt-right stoking every divisive fire they can. You have conservatives who see their issues diminished regularly, or ignored or mocked. Why can't I watch the Emmys without seeing Sean Spicer? What was he doing there? Can't I just watch the fabulous gowns? Can't I have an escape? Must everything be political? Everything? Everything! I'm sick of it. And I'm not the only one."
On Wednesday, Kelly made headlines for telling The Ellen DeGeneres Show host Ellen DeGeneres that she "was never a political person," and that she left her primetime hosting gig in part because of the political polarization that has heightened in the age of Trump.
"Just as I was sort of wondering if [primetime cable news] was where I wanted to be and how I wanted to live, you know, the universe came and shone a light, and it was clear to me what I wanted to do," she said during that interview, referring to Trump's verbal attacks on her during the 2016 election.
To TV Newser, Kelly said she doesn't have a pending request out to the White House for a sit-down interview with Trump — but she didn't rule it out.
"I bet there will be a Trump interview at some point," she said. "He's the sitting president of the United States. There's so much I'd like to talk to him about."
Kelly left Fox News in January for a new role at NBC, which has included a Sunday night newsmagazine program. Megyn Kelly Today premieres on Monday, Sept. 25.