Steph Curry doesn't want to go to the White House. So Trump says his invitation is "withdrawn."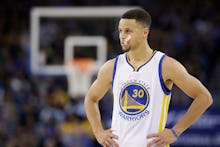 In a Saturday morning tweet, President Donald Trump said he is disinviting Steph Curry from the White House because the Golden State Warriors star said Friday that he doesn't want to be part of the tradition of NBA championship teams visiting the president.
"Going to the White House is considered a great honor for a championship team," Trump wrote. "Stephen Curry is hesitating, therefore invitation is withdrawn!"
Trump was likely reacting to a comment Curry made during the team's preseason media day after being asked about the team possibly going to the White House, as has been tradition for past NBA, NFL and Major League Baseball champions.
"I don't want to go," he said to laughter from members of the press. "It's not just me going to the White House. If it was, this would be a pretty short conversation. It's the organization. It's the team. It's hard to say, because I don't know exactly what we're going to do — if we do go or we don't go. But my beliefs stay the same."
Despite Curry's "withdrawn" invite, a formal invitation to the team from the White House has not been extended. Curry had previously said he "probably" wouldn't go visit Trump if the team were invited.