Trump slams NFL players who protest anthem, says they should be "fired"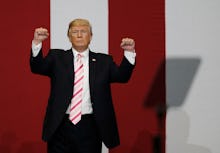 President Donald Trump went off on a football-related tangent during a campaign event for Republican Luther Strange on Friday night, telling an Alabama crowd that the NFL had gotten too soft and that players who protest the national anthem should be fired.
"Wouldn't you love to see one of these NFL owners, when somebody disrespects our flag, to say, 'Get that son of a bitch off the field right now, out, he's fired," Trump said. "You know, some owner is gonna do that ... They'll be the most popular person, for a week. They'll be the most popular person in this country."
In the same rant, Trump also took issue with efforts by the league to make the game less dangerous, saying that player safety rules are "ruining the game."
"Today if you hit too hard — 15 yards! Throw him out of the game!" Trump said. "They had that last week. I watched for a couple of minutes. Two guys, just really, beautiful tackle. Boom, 15 yards!"
The comments were familiar ones for the president, who in the spring boasted about his contributions to Colin Kaepernick's ongoing unemployment.
"There was an article today, it was reported that NFL owners don't want to pick him up because they don't want to get a nasty tweet from Donald Trump," he said at a rally in March. "You believe that?"
The heated remarks Friday drew a rebuke from NFL commissioner Roger Goodell, who said Trump displayed a "failure to understand the overwhelming force for good our clubs and players represent in our communities."
A number of NFL players also condemned the remarks, including Seattle Seahawks star Richard Sherman, who said Trump's "unacceptable" behavior "needs to be addressed."
Even Kaepernick's mother got into the mix, calling herself a "proud bitch" in reference to Trump's dig at her son.
In response to the widespread criticism on Saturday, Trump doubled down on his rant, tweeting that athletes "should not be allowed to disrespect our Great American Flag (or Country)."
Trump has repeatedly taken issue with Kaepernick and other players who have knelt during the pre-game national anthem in protest of racial inequality and police brutality. On Friday, he said that fans as upset as he is with the protests should "pick up and leave" games that they paid to attend.
"The only thing you could do better is if you see it, even if it's one player, leave the stadium. I guarantee things will stop," Trump said. "Just pick up and leave. Pick up and leave."
"Not the same game anymore, anyway."
Sept. 23, 2017, 2:26 p.m.: This story has been updated.