Lebron James defends rival Steph Curry, calls Donald Trump a "bum"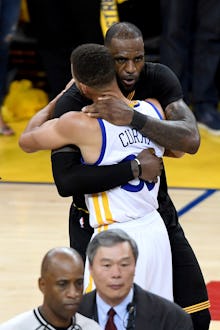 Lebron James dunked on President Donald Trump on Saturday, calling him a "bum" over his early morning tweet telling NBA champion Steph Curry that he isn't welcome at the White House.
"[Curry] already said he ain't going!" the NBA superstar tweeted. "So therefore ain't no invite. Going to White House was a great honor until you showed up!"
James — who visited the White House in 2016 with the Cleveland Cavaliers, while Barack Obama was president — was responding to a portion of Trump's early morning tweetstorm, in which he revoked an invite to Curry that he never gave in the first place.
But Curry wasn't exactly "hesitating," as Trump wrote. The Golden State Warriors guard had outright stated he would vote against going to the White House if the team was invited, saying that "we don't stand for what our president has."
Trump decided to announce he would not meet the man who said he did not want to meet him after Fox and Friends — the president's favorite show — reported on Curry's comments.
Of course, as ESPN noted, there wasn't even an invite yet for the president to rescind — the White House will not ask the Warriors to visit until they are certain the team will come. That seems unlikely, as coach Steve Kerr and several of the team's biggest stars have been vocal critics of Trump.
"It's tough when you want there to be some respect and dignity, and there hasn't been any," Kerr said after Trump's election in November. "And then you walk into a room with your daughter and your wife who have basically been insulted by his comments and they're distraught. Then you walk in and see the faces of your players, most of them who have been insulted directly as minorities, it's very shocking. It really is."
After the Warriors beat James' Cavaliers in the NBA championship in June, several players — including finals MVP Kevin Durant — said that he would not go to the White House to meet Trump if he was invited.
"I won't do that," Durant told ESPN. "I don't respect who's in office right now."
Trump's tweet Saturday followed bizarre, inflammatory comments at a campaign event for Republican Luther Strange on Friday in which he said that "son of a bitch" football players who kneel during the national anthem should be fired. The dustup also follows his recent criticism of ESPN after anchor Jemele Hill called Trump a "bigot" in a series of tweets.
King James' burn on Trump immediately reverberated across the sports and political worlds Saturday, with many giving the superstar a virtual high five for his defense of Curry.