This week in Trump-Russia news: Trump once again cries "hoax" as Mueller closes in on Manafort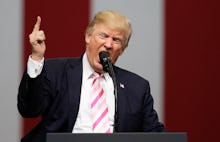 Paul Manafort offered to brief a Russian aluminum magnate with ties to Russian President Vladimir Putin on the 2016 campaign, it was discovered this week.
According to the Washington Post, Manafort had written a message intended for Oleg Deripaska — whom Manafort had worked with in the past, allegedly to advance Putin's interests — weeks before President Donald Trump accepted the Republican nomination, saying that if he "needs private briefings we can accommodate."
While it isn't clear if Deripaska ever took Manafort up on his offer, the newly revealed email is perhaps the strongest suggestion yet that members of Trump's inner circle may have sought to collude with Russia — and the latest bit of bad news for the ex-Trump campaign chair in a week full of it.
Here's the latest on Manafort — and a look at other developments in the Trump-Russia investigation this week.
Manafort is warned of coming indictment
Manafort was the subject of the three biggest Russia-related bombshells this week.
First, it was reported that he'd been wiretapped by the U.S. government before and after the 2016 election — when he was known to have spoken with Trump, suggesting that — lordy! — there might in fact be tapes of the president talking about Russia.
Then, the New York Times revealed that special counsel Robert Mueller's prosecutors warned Manafort that they plan to indict him when they raided his Virginia home in late July.
The latter report is yet another indicator that Mueller's investigation is entering a new phase — and that Manafort, who was later in the week revealed to have offered a Kremlin-connected billionaire private briefings on the Trump campaign, may be facing serious legal trouble.
Mueller seeks Trump documents in obstruction probe
Trump has repeatedly insisted that he is not under investigation.
But a report this week from the New York Times seems to confirm that Mueller is, in fact, scrutinizing Trump — including his actions as president.
According to the Times, the special counsel has asked the White House for documents relating to actions he's taken since assuming office, including his controversial firing of former FBI Director James Comey.
He also apparently requested information about Trump's White House meeting with Russians the day following Comey's ouster, during which the president reportedly shared "highly classified" information. In that meeting, Trump is said to have called the former FBI director a "nut job" while conversing with Sergey Lavrov, the Russian foreign minister, and Sergey Kislyak, then the Kremlin's ambassador to the U.S.
"I just fired the head of the FBI," Trump told the Russian officials in the May meeting. "I faced great pressure because of Russia. That's taken off."
Mueller may be seeking documents relating to Comey as part of his probe into possible obstruction of justice on the part of Trump.
He is also seeking information regarding the misleading statement Trump crafted in July for Donald Trump Jr. aboard Air Force One to dismiss his eldest son's 2016 meeting with a Kremlin-connected lawyer, Axios reported Thursday.
In that statement, Don Jr. claimed that he "primarily discussed a program about the adoption of Russian children" with Natalia Veselnitskaya. But emails he released later showed that he had been promised dirt on Hillary Clinton that had been collected by the Russian government.
Ty Cobb, Trump's lawyer, apparently told Mueller that he would provide him with many of the requested documents this week, according to the Times.
Lawyers bicker over Russia — within earshot of reporter
Speaking of Cobb, he and John Dowd — another Trump lawyer — were overheard arguing over how much they should cooperate with the Russia investigations while lunching at a Washington, D.C., steakhouse on Sept. 12.
Cobb wants to turn over "as many of the emails and documents requested by the special counsel as possible in hopes of quickly ending the investigation," according to the New York Times. White House counsel Donald McGahn, on the other hand, reportedly worries that doing so could "weaken" the White House.
The Times' Kenneth Vogel was at the steakhouse meeting a source, where he overheard the whole conversation.
"It was certainly enough to keep my ears perked at lunch," Vogel wrote later.
DHS: 21 states targeted by Russian hackers
The Department of Homeland Security on Friday reportedly informed 21 states that Russians had attempted to hack into their election systems in 2016.
The hacks were unsuccessful, officials said, but the reported attempts indicate that Trump's own federal government is contradicting him on the seriousness of the Russia investigation.
He continued to insist this week that the probe is a "hoax" — despite an empty assurance from national security adviser H.R. McMaster on Thursday that both he and the president see the investigation as "legitimate." Further, he suggested that the Kremlin's interference in the 2016 election was less consequential than the "Fake News" he says tried to help Clinton to victory.
The comments came in reference to reports that a Russian troll farm had bought $100,000 in Facebook ads to try to sway the election, something the social media giant apparently admitted to congressional investigators.